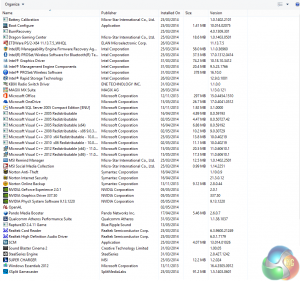 The install isn't the best we have seen. We appreciate all the drivers have to be installed, but to see a default install featuring Norton's Anti Theft, Internet Security and Online Backup isn't appealing. We know this will be very much a personal taste issue, but Norton's software is well known to be a resource hog and it certainly wouldn't be our choice. We deinstalled all this software before testing the system as we have found minor performance degradation with it running in the background.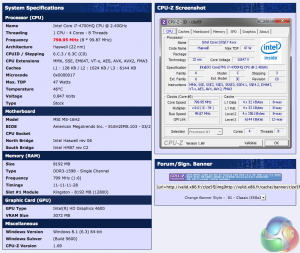 An overview of the system via CPUz online validation tool. You can see it over here. More observant readers will notice that the memory in this system is running in Single Channel. While this may raise a red flag, we honestly have seen very little real world impact due to this in the past.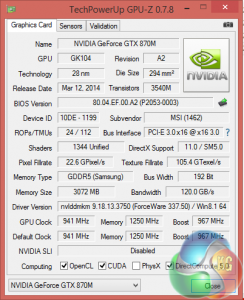 The system arrived with us with the 337.50 driver installed, we upgraded to the latest 340.43 driver. This is a very beefy mobile graphics solution, with 24 ROPS, 112 Texture units and 1344 Cuda Cores. We expect great gaming performance at 1080p with high image quality settings. More on this later in the review.
The core clock is 941mhz and will boost to 967mhz. The 3GB of GDDR5 memory runs at 1,250mhz (5Gbps effective) and is connected via a 192 bit memory interface.
Comparison Systems (for specific synthetic test compares):
MSI GT70 2OC (Intel Core i7 4700MQ)
MSI GS70 2OD Stealth (Intel Core i7 4700HQ)
MSI GE40-20C Dragon Eyes (Intel Core i7 4702MQ)
PCSpecialist Inferno 11.6 inch (Intel Core i7 3630QM)
MSI GX60 (AMD A10 4600M)
Lenovo ThinkPad X1 Carbon (featuring Core i5 3427U)
Lenovo ThinkPad Edge S430 (featuring Core i5 3210M)
PC Specialist Vortex III HD72 (featuring Core i7 3610QM).
Asus G74SX-91013Z (featuring Core i7 2360QM).
Dell XPS 14z (featuring Core i7 2640M).
AlienWare M18X (featuring Core i7 2960XM Extreme Edition).
MSI CX640 (featuring Core i5 2410M).
Intel Core i7 2600k desktop processor.
Intel Core i5 2500k desktop processor.

Software:
3DMark
3DMark 11
Cinebench 11.5 64 bit
FRAPS Professional
Unigine Heaven Benchmark
Unigine Valley
SiSoft Sandra
CrystalDiskMark
ATTO Disk Benchmark
Cyberlink PowerDVD Ultra 12
Cyberlink MediaEspresso
GRID 2 (Direct X 11)
Tomb Raider (Direct X 11)
Watchdogs (Direct X 11)
Wolfenstein The New Order (Direct X 11)

Technical Monitoring and Test Equipment:
Asus USB BluRay Drive
Thermal Diodes
Raytek Laser Temp Gun 3i LSRC/MT4 Mini Temp
Extech digital sound level meter & SkyTronic DSL 2 Digital Sound Level Meter
Fuji XT-1 with 18-50mm lens, Nikon DF with 50mm f1.4 lens and Sony RX100.
Game descriptions are taken with courtesy from Wikipedia.