We spend considerable time with a wide selection of laptops in the KitGuru labs, every month. After a while we will be honest, it is easy to become rather disinterested in the somewhat generalised, run of the mill designs we see all the time. The MSI GS60 2PE Ghost Pro however has really grabbed our attention – it is quite honestly one of the most beautiful looking laptops we have seen. Super thin, and super sexy.
It is clear that MSI are targeting the audience interested in the much hyped Razer Blade – those in the market for a light weight, slim, yet powerful PC to game with, on the move. We believe that the MSI GS60 2PE Ghost Pro is a better and more diverse machine than the Razer model we last looked at during a recent event.
The MSI GS60 2PE Ghost Pro is very thin, measuring only 2cm when it is closed. The Magnesium-Lithium Alloy finish is very solid and feels like it will last many years with some care and attention. The only negative is that it does attract fingerprints rather easily, especially if you are prone to perspiring.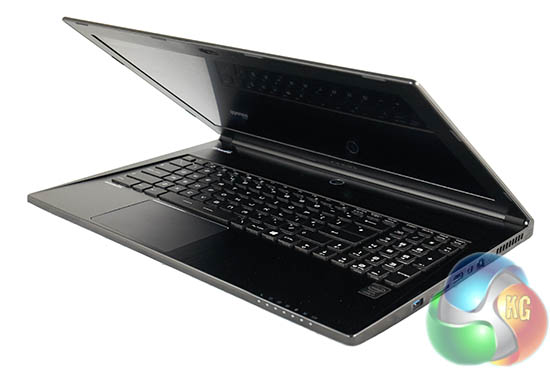 The Anti-Glare eDP Wide View Angle screen is excellent. Viewing angles are very impressive, and it is bright enough to be viewed outdoors, although not in direct sunlight. Colour saturation is well above average, as is screen linearity and sharpness.
The backlit keyboard by Steelseries is truly excellent and one of the best laptop keyboards we have used. It still can't quite match the business keyboards equipped on the high end Lenovo ThinkPad machines, but it is a close second. The dedicated software which is included, will allow you to change and tweak various settings, including the backlighting.
Onboard audio is also surprisingly good, with decent levels of volume when factoring in the small size. Stereo speakers are positioned on either side of the internal design, although those who take audio more seriously would be advised to invest some money into a quality pair of speakers or headphones.
We already know the Intel i7 4700HQ is a powerhouse mobile processor – verified by the results achieved with 3D rendering benchmarks. If you need to render some complex scenes on the move, this machine will deliver the goods.
The MSI GS60 2PE Ghost Pro struts its prowess as a gaming machine, generating some fantastic frame rates with the latest Direct X 11 games at the native 1080p panel resolution. The inclusion of Nvidia's Geforce GTX870M is inspired, and rather daring when considering the diminutive dimensions of the wafer thin chassis.
The system boots up and reacts very quickly to the most demanding situations thanks to the adoption of two Solid State Drives configured in RAID 0. Performance is rated around the 1000 MB/s mark and in real world terms, you are never waiting on the machine to catch up with your commands.
It is true, the machine does run rather warm, and it emits a fair level of noise under heavy, sustained load. There is absolutely nothing MSI can do about this – apart from add in more fans and increase noise levels well past 40dBA. MSI have clearly spent some time in the R&D department, balancing the heat against noise emissions. Even though the machine does get very warm under load it never suffered from throttling during our tests. If you pick one up however, we do advise that you keep the rear vents clear from any obstructions.
MSI are selling several versions of the MSI GS60 2PE Ghost Pro 15.6 inch Laptop. This particular model we reviewed today, is available from Overclockers UK for £1,399.99 inc vat, although it has just sold out as we went to press. MSI did tell us that this is one of their more popular models, and it isn't difficult to see why.
Discuss on our Facebook page, over HERE.
Pros:
Super thin and very portable.
weighs less than 2kg.
backlit Steelseries keyboard.
great screen.
decent onboard sound.
very powerful CPU and GPU.
RAID 0 Solid State Drive configuration – hitting 1000MB/s.
very competitively priced.
Cons:
Gets hot.
a little loud under load.
battery runs out of juice quickly if you want to game on the move.
Kitguru says: The MSI GS60 2PE Ghost Pro is a powerful, well designed, super thin gaming laptop. It really doesn't get any better than this. A perfect partner for LAN gaming events.