For this test, we ran the Asus Zenbook 3 Deluxe through 3D Mark Time Spy. We have listed results for the overall score, the CPU only score and the GPU-only score.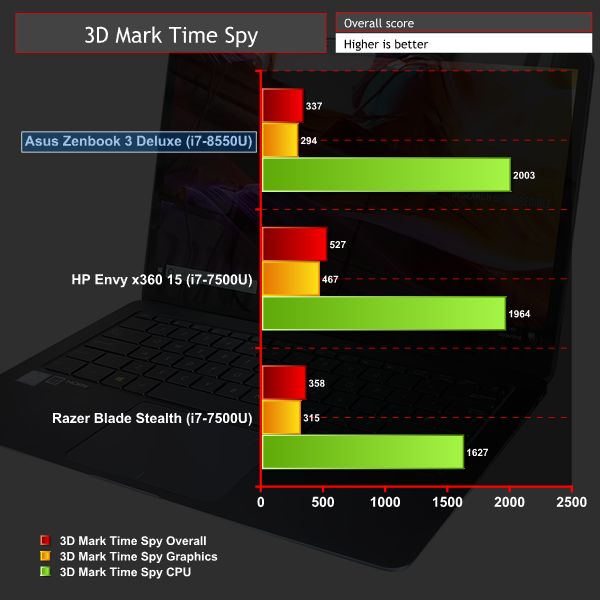 It's no surprise that the Asus and its integrated graphics chipset struggled in gaming benchmarks.

Its overall Time Spy result of 337 is tiny: a couple of hundred points behind the low-end Nvidia chip in the HP laptop, and slightly behind the Razer Blade Stealth.
Don't expect to do any serious gaming on this machine. You'll handle low-end indie titles and some esports games with the graphics turned down, but even some of those titles will be too much – which certainly rules out AAA games, too.
We played CS:GO on the Zenbook with the game's graphics settings turned down, and the Zenbook was inconsistent. At both 1080p and a less demanding 1,280 x 720 resolution, the game ran smoothly – at around 40fps in the former resolution, and at beyond 50fps in the latter resolution. However, at both resolutions, explosions and their complex particle effects saw the framerate drop to an unplayable 15fps.
In short, it's going to be very difficult to do any gaming on the Zenbook beyond low-end indie games, older titles and less-intensive esports games like Hearthstone.
If you want to play video, do some light photo-editing or manage your pictures, though, you'll be just fine.