There has been talk of Google releasing its own gaming console since as far back as 2013. Over the years, these rumours have been consistent and Google has confirmed plans to enter the gaming market with acquisitions of studios and the public testing of a new streaming service. It looks like we are now closer than ever to seeing Google's own gaming hardware too, with the controller design being revealed over the weekend.
A new patent confirms the controller design that Google is playing around with. The patent describes a console notification system, which will allow the controller to let players know when they've received a game invitation, a chat request or when you are able to join a match etc. Google's controller design uses the DualShock button/stick layout, although ergonomically, it does not look as comfortable.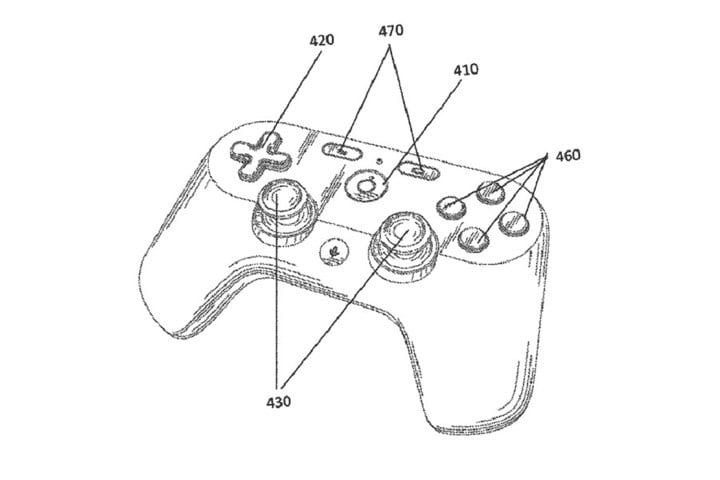 After the patent image began doing the rounds, mock up designs of what the final product will look like also began floating around the web.
Google's gaming console controller revealed #Google #GDC2019 pic.twitter.com/fMtaFIbaTY

— Reps (@RepsUp100) March 9, 2019
We've known about Google's console plans for years now, with the hardware being developed under the codename 'Project Yeti'. Part of Yeti will be Project Stream, a cloud gaming service that can run on just about any device with an internet connection.
A new video from Spawn Wave adds a few new details into the mix. Apparently Google will release a traditional home console to compete with what is currently on the market, in addition to a streaming service. Exclusive games are reportedly planned, some from first-party studios and others funded by Google in third-party deals. Ubisoft and Sega are amongst two of the big publishers set to support this.
How successful this ends up being remains to be seen. Google plans to discuss some of its gaming plans at GDC later this month, so we'll be hearing more on this very soon.
KitGuru Says: Tech giants like Google and Amazon have been looking at ways to break into gaming for years now, although it is hard to imagine the current status quo changing much. Xbox, PlayStation and Nintendo's various consoles have all been so dominant and will likely continue to have an edge as far as content is concerned. Still, it is interesting to see increased competition beginning to pop up. Do you guys think a Google-made console could be successful?