Cinebench R15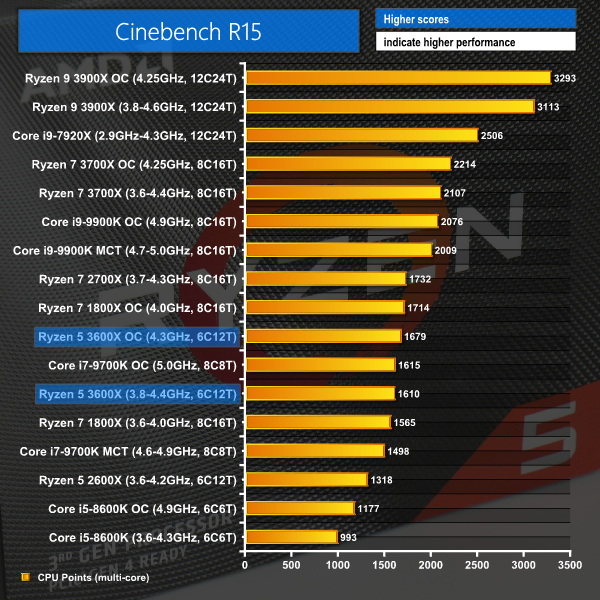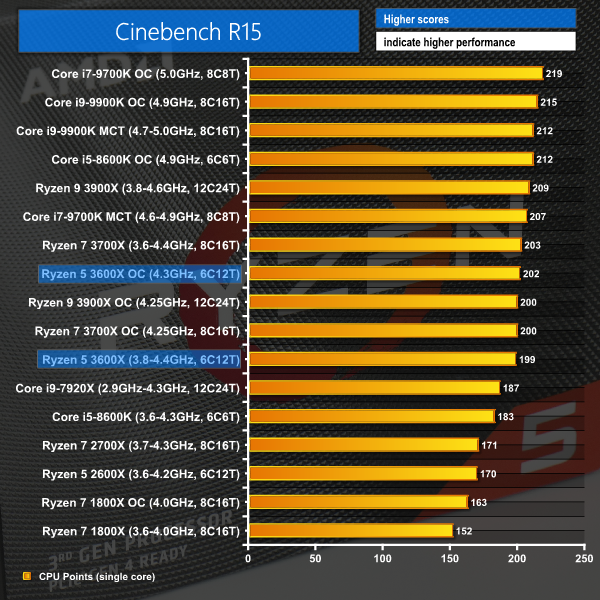 Starting with the usual go-to of Cinebench R15, we see Ryzen 5 3600X take a commanding lead against the six-core Coffee Lake i5, even when Intel's chip leverages its frequency advantage. The stock-clocked AMD Zen 2 part is 37% quicker than the 4.9GHz overclocked i5 hexacore, with that margin widening when pushing the 3600X manually.
Compared to previous Ryzen CPUs, it is highly impressive to see the six-core, middle-of-the-stack Ryzen 5 3600X marginally outperforming the eight-core Ryzen 7 1800X flagship of Zen 1. Certainly not a bad gain for 2.5 years of work! Equally impressive is the 3600X's ability to outperform the more costly Core i7-9700K, before overclocking, though the twice-as-expensive i9-9900K proves a step too far.
Architectural improvements for Zen 2 give the Ryzen 5 3600X strong single-threaded performance in Cinebench R15. However, Intel's raw frequency advantage is generally able to make up for the lost ground and force its overclocked competitors to the top of the chart.
Nevertheless, a 17% single-threaded performance improvement over the Zen+ Ryzen 5 2600X that it replaces is a strong uplift.
Cinebench R20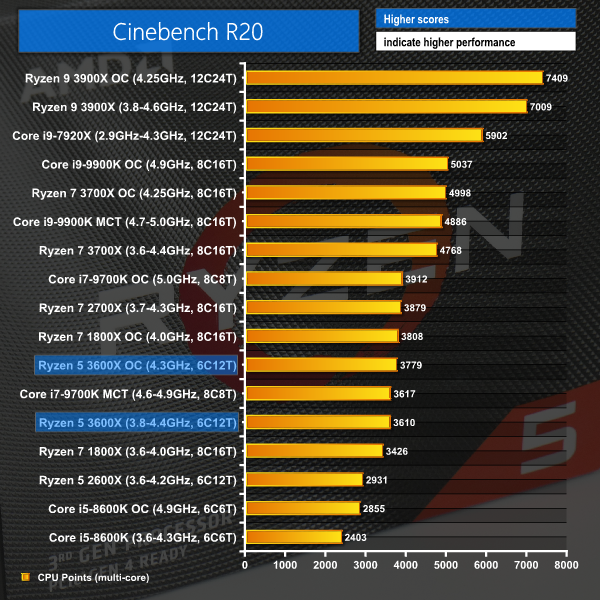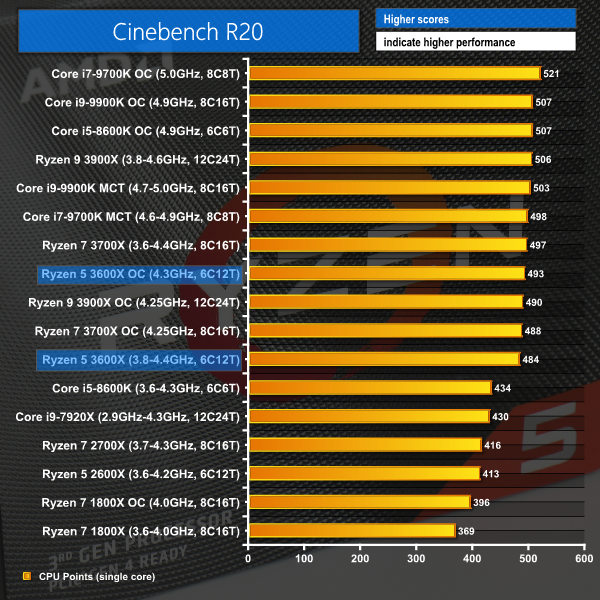 Focussing again on the 3600X versus Coffee Lake's six-core i5, we see the Zen 2 chip providing a completely different tier of performance, beating out the stock and overclocked i5s by somewhere in the region of 1000 points. Even with the Intel processor overclocked to 4.9GHz, AMD's six-core, twelve-thread Ryzen 5 3600X at stock speeds is able to offer 26% higher performance thanks to its superior multi-threading abilities. That performance gap widens when the Zen 2 CPU is overclocked to 4.3GHz, albeit very marginally.
Yet again, it is highly impressive to see the Ryzen 5 3600X trading blows with the Ryzen 7 octa-core flagships of Zen and Zen+. This highlights clearly the architectural improvements that AMD has brought about with its Zen 2 architecture, in addition to the advantageous frequency boosts, especially compared to Ryzen 1000.
The closest Intel competitor to AMD's 3600X is the eight-core, eight-thread Core i7-9700K. Performance is practically identical between the two stock-clocked chips. However, the i7 pulls away when both CPUs are overclocked thanks to the 5.0GHz frequency capability from Intel's well-understood 14nm++ process technology. The fact that AMD's Ryzen 5 3600X trades blows with the £140 more expensive i7 speaks volumes for Team Red's value proposition.
Single-thread performance again shows Zen 2 to offer impressive results through an efficient architecture. Intel's superior clock speed wins here, with the 4.9GHz overclocked Coffee Lake Core i5 beating the speed bumped Ryzen 5 3600X by 3%. A small victory, but a victory, nonetheless. Interestingly, with the Ryzen 5 CPU boosting to around 4250-4300MHz as a single-core maximum, it can comfortably outperform the Coffee Lake Core i5 when the Intel CPU boosts to a similar 4300MHz.
The margin here is significant – 11.5% in favour of AMD. Clock-for-clock, the Zen 2 architecture looks to be outperforming Intel's Coffee Lake competition, according to the Cinebench 1T results.
Blender BMW Benchmark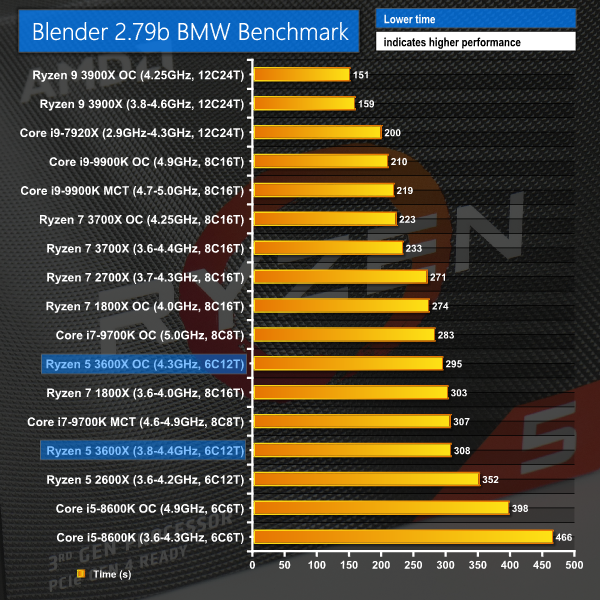 Multi-threaded rendering is an area where more cores and threads should deliver higher performance, even if frequency is lower. That's exactly what we see with Ryzen 5 3600X and its twelve threads versus the six-thread Coffee Lake Core i5. Stock Ryzen 5 versus overclocked Core i5 sees a 90 second, or 23% reduction in render time for the AMD part. Overclocking the AMD chip to 4.3GHz sees the lead stretch to 26% and the overall render time comes in just below the 5-minute mark, if that's significant to you.
Again, we see the 3600X offering up performance that isn't too far from that of the Ryzen 7 1800X, Ryzen 7 2700X, and Intel Core i7-9700K, all of which are higher-end parts at their original retail prices.
Now for a quick comparison to the twelve-core, 24-thread Ryzen 9 3900X, which, in this case, can be crudely referred to as two Ryzen 5 3600Xs. The stock versus stock reduction in render time from the 3600X to the 3900X is 48%, which translates into a 94% performance improvement for the twelve-core. See what we mean about the crude, but arguably valid, comparison of the Ryzen 9 3900X being effectively as good as two Ryzen 5 3600Xs?