3DMark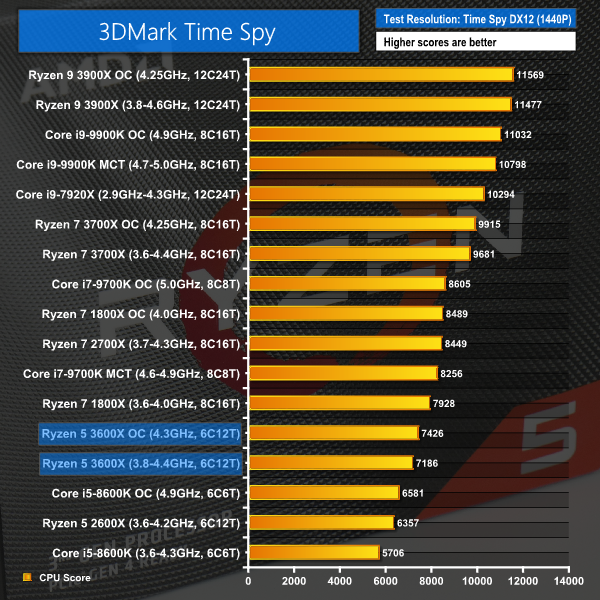 Deus Ex: Mankind Divided

Despite its age, Deus Ex: Mankind Divided remains a demanding title even for modern hardware. We use the game's built-in benchmark with quality set to Ultra, MSAA disabled, and DX12 mode.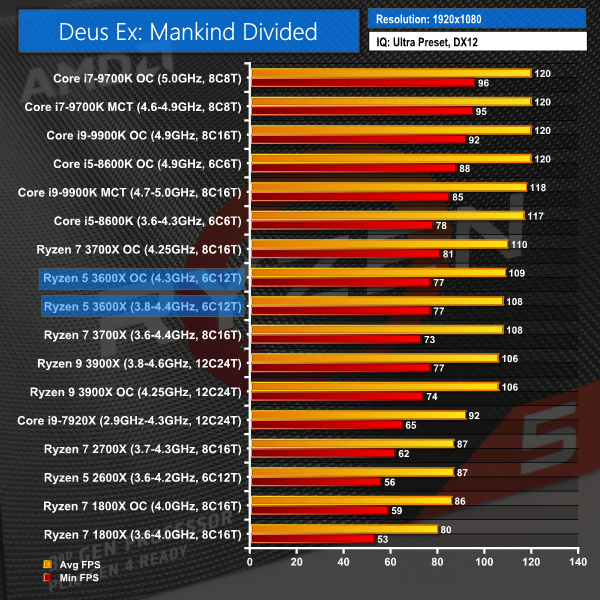 Deus Ex: Mankind Divided at 1080P sees the Ryzen 5 3600X offering similar performance to the other Ryzen 3000 chips that we've tested. Average frame rates of around 110 FPS are certainly nothing worthy of complaint, and minimums close to 80 FPS aren't too shabby either.
However, the Coffee Lake Core i5 CPU is a little faster on average in this title, thanks in large to the frequency advantage and the tendency for older games to perform well on Intel's mature Skylake-based microarchitecture.
A trend that we will repeatedly observe in our game testing is just how much demand is placed on the six-core, six-thread Coffee Lake i5 when delivering its gaming results. While the slower-on-average, twelve-thread AMD Ryzen 5 3600X has a decent amount of CPU performance to spare, Intel's six-thread competitor is pinned in the 70-80% utilisation range throughout this benchmark.
Far Cry 5
We use the Far Cry 5 built-in benchmark with quality set to Ultra.
Far Cry's Dunia engine tends to favour Intel hardware and that's exactly what we see in our chart. The Coffee Lake Core i5 offers 13% higher average FPS numbers with both chips at stock. That lead for Team Blue grows to 20% with both CPUs overclocked.
With both CPUs offering around 120 FPS and higher, on average, there's little to complain at AMD about. Intel's Coffee Lake CPU is faster in terms of raw average FPS numbers, but the Ryzen 5 3600X is more than adequate for high refresh rate gamers, especially when compared to the Ryzen 5 2600X it replaces.
Referring to CPU utilisation, this benchmark run actually saw the overclocked Core i5 push CPU utilisation close to 100% on times. There isn't much more performance that can be squeezed out of this six-thread chip, so background tasks will sooner result in FPS drops than the Ryzen 5 3600X. The AMD twelve-thread part hovered around 30-50% overall CPU usage, with some threads pinned above 90% and others doing very little work and therefore free to be used by other tasks such as game streaming.
We'd argue that the average and minimum FPS numbers show both CPUs to be perfectly adequate options for Far Cry 5. Ryzen 5 3600X shows a strong performance gain over the Zen and Zen+ predecessors but there's no denying that the highly clocked Coffee Lake Core i5 is faster on average.
Grand Theft Auto V

Grand Theft Auto V remains an immensely popular game for PC gamers and as such retains its place in our test suite. The DX11-built game engine is capable of providing heavy stress to a number of system components, including the GPU, CPU, and Memory.
We run the built-in benchmark using a 1080p resolution and generally Maximum quality settings (including Advanced Graphics).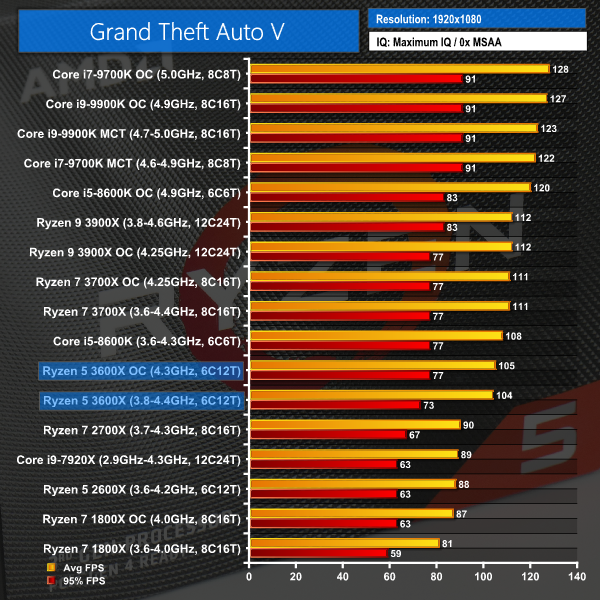 Old but still immensely popular, GTA V gives us a good look at how a CPU-demanding title coded with the limitations of the DX11 API performs on Ryzen 3000.
GTA V has long favoured Intel's architecture and generally higher clock frequency, and while Zen 2 tasks strides in changing that, the gap is not closed completely. The 4.9GHz Coffee Lake i5 opens up a clear performance lead over the Ryzen 5 3600X, which in its own right is no slouch. AMD's twelve-thread CPU puts forth more than 100 FPS on average, which is difficult to be unimpressed by. The 600MHz speedier Core i5 is around 15 FPS quicker on average, though.
Again, we see no major reason to opt for the higher-end Ryzen 3000 chips if you play GTA V frequently (and don't stream). The 3700X and 3900X are a bit quicker on average, but the gap isn't all that large or noticeable.
Overall CPU usage on the overclocked Ryzen 5 3600X was around 30-50% throughout the benchmark run, with three threads close to 90% usage and the others doing relatively little work by comparison. While the 4.9GHz Core i5 was certainly being pushed harder with its 50-80% overall usage, we did not observe any of the stuttering and low minimum FPS values that plagued older Core i5 CPUs – typically the quad core ones – in GTA V.