Ryzen 5 3600X builds on the success of its six-core, twelve-thread Zen and Zen+ predecessors by offering productivity performance that punches well above its price point. Gaming performance sees a significant uplift versus previous generation Ryzen chips, to the point where high refresh rate gamers can now buy the Ryzen 5 3600X and be happy to push up to their monitor's 120/144Hz frequencies.
In terms of average gaming performance, Intel's Coffee Lake architecture remains a consistent thorn in AMD's side. Even the six-thread Coffee Lake Core i5 manages to outperform the Ryzen 5 3600X on average in our game tests. That's especially true when you feed the games what they want – a high 4.9GHz clock speed via overclocking.
The difference here, however, is that I'd feel less confident about using the six-thread Coffee Lake Core i5 in my own gaming system than I would the eight-thread Core i7-9700K or the sixteen-thread 9900K. Our data shows that the Core i5 and its half-dozen threads are regularly pinned above 70% utilisation when delivering the strong gaming results.

Throw some background tasks into the mix, and it doesn't take much to see how FPS numbers could drop when the CPU is diverting resources elsewhere. The twelve-thread Ryzen 5 3600X, by comparison, delivered lower FPS numbers on average but did so with notably lower CPU utilisation. This is important for game streamers or users who have CPU-requiring tasks running in the background.
Adding some context, we are talking about numbers that are generally above 100 FPS on average when running with a beastly Gigabyte Aorus RTX 2080 Ti. Drop the monitor refresh rate below 100 FPS or, more reasonably, add a higher resolution or a less powerful GPU into the mix and the gaming performance differences will start to erode.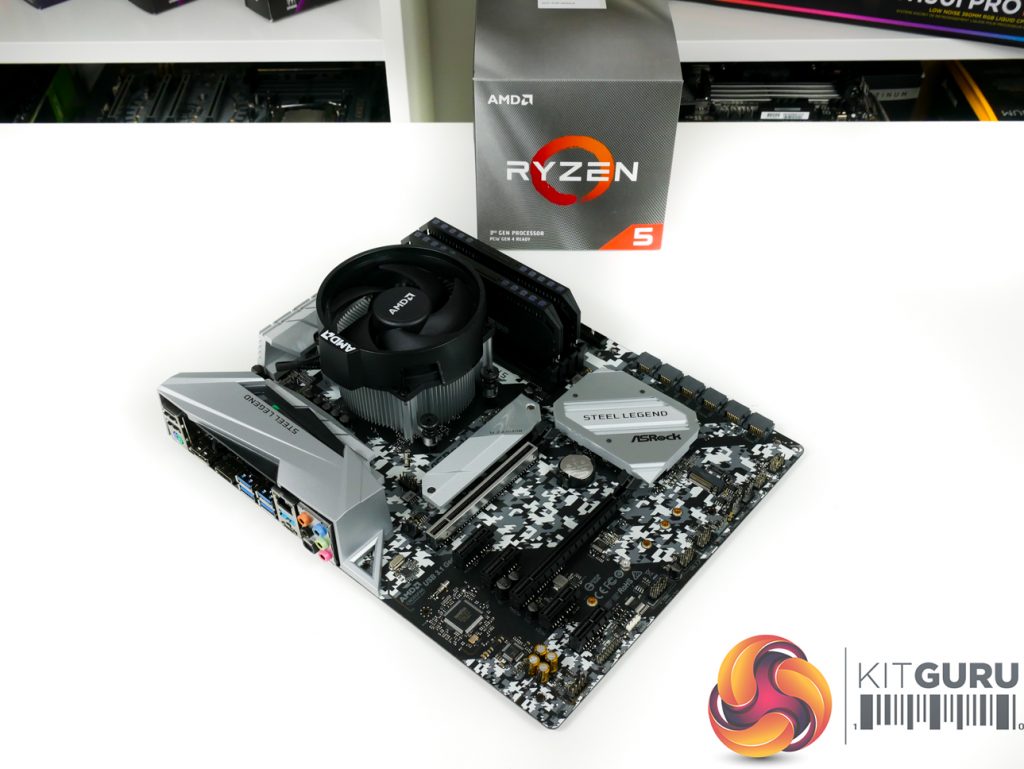 Put simply, the high clock speed helps Coffee Lake's Core i5 offer higher average gaming performance than Ryzen 5 3600X in our testing. However, there will, almost certainly, be scenarios where the limitation of six threads on the Coffee Lake chip will cause gaming slowdowns in current titles. That point is likely to be more pronounced in future games, as we have seen with the quad-core Core i5 CPUs from the Kaby Lake era. If you want to do anything else with your system whilst also gaming, the Core i5 and its limited thread count is likely to suffer far quicker than the SMT-enabled Ryzen 5 3600X.
If you only play games and do nothing else, the choice between Intel and AMD at this price point depends on your individual preferences and partnering hardware such as GPU and monitor. Partnered with a reasonable graphics card and a 60Hz monitor, we think the Ryzen 5 3600X is an excellent chip for gamers.
If you do any form of productivity work on your computer, such as rendering or video editing, the Ryzen 5 3600X is the obvious choice. Six additional compute threads boost its productivity-related performance into a different league from the Coffee Lake Core i5 hexacore.
Certainly, the biggest question mark over pricing and value of the Ryzen 5 3600X is the existence of the Ryzen 5 3600 (non-X). £50 cheaper than the 3600X, the £190 Ryzen 5 3600 is largely identical, bar the lower 65W TDP, the smaller Wraith Stealth cooler, and the reduced base and boost clocks (-200MHz on both). That last point is probably of little importance given the retention of Ryzen's unlocked CPU core ratio multiplier.
A few minutes inside the BIOS should easily turn your £190 Ryzen 5 3600 into a £240 Ryzen 5 3600X, provided you aren't too concerned with poorer power efficiency on the less-aggressively-binned (we assume) non-X part. And given that AMD's Precision Boost 2 algorithm does such a good job at managing frequency capability, the all-core speed difference between Ryzen 5 3600 and 3600X should be less than the suggested 200MHz on paper.
As another comparison point, Ryzen 2000 processors are relative bargains at the moment as retailers rush to clear stock. At £120, the Zen+ 6C12T Ryzen 5 2600 is half the price of the Zen 2 3600X. Eight-core Ryzen 7 2700 is also cheaper at around £170. Even AM4's highest-end Zen+ CPU – the 8C16T Ryzen 7 2700X – can be had for the same £240 as the 3600X. If productivity work that uses a lot of cores is your main system use case, the current value of the Ryzen 7 2700 is hard to ignore. The same £190 as Ryzen 5 3600 nets you 33% more cores albeit on the slower and less power efficient Zen+ architecture.
If, however, gaming is your primary use case, the architectural improvements of Zen 2 make the additional cost-per-core worthwhile. Of course, these Ryzen 2000 deals won't be around permanently, thus switching Ryzen 5 3600/3600X focus back to the real competitor – Coffee Lake Core i5 parts.
Ryzen 5 3600X is a well-balanced processor that packs a strong productivity performance punch and delivers good gaming numbers. The stiffest competition comes from AMD's own Ryzen 5 3600, which is cheaper and realistically the same in terms of performance. We see no real reason to spend £50 more on the 3600X over the 3600 non-X.
That puts the Ryzen 5 3600X in a weird position where it is a very good offering from AMD, but it isn't realistically the chip you should be looking at buying in this price range, unless you have some specific requirements for the X-rated SKU. AMD is effectively competing with itself, and that's good for the consumer.

The Ryzen 5 3600X processor can be found on Overclockers UK HERE. It is currently on offer for £219, a £21 savings over its regular price.
Pros:
Excellent productivity performance, especially for the price.
Significant IPC improvements versus Zen and Zen+.
Higher gaming frame rates versus Ryzen 1000 and Ryzen 2000.
Precision Boost 2 algorithm works superbly (current AGESA/BIOS quirks aside).
Better value than Coffee Lake Core i5 competition.
Drop-in upgrade for early Ryzen/AM4 adopters.
Supplied with a decent enough box cooler – the Wraith Spire.
Cons:
Questionable value over the cheaper Ryzen 5 3600 non-X.
Power efficiency compared to the higher-end Zen 2 processors is diminished.
Frequency deficit versus Intel Coffee Lake can inhibit competitiveness in certain scenarios.
KitGuru says: A well-balanced, mid-range option with productivity performance that punches above its price tag and solid gaming frame rates. A smart choice in its own right but AMD's considerably cheaper Ryzen 5 3600 non-X does steal the limelight.