AMD's Ryzen 7 1700 is perhaps the most interesting chip in the line-up due to its lower price than the 1700X and 1800X, which were superb value in their own right. A new level of multi-threaded performance has been delivered at a £330 price point where Intel can only currently offer a hyper-threaded quad-core processor as its competing option.
Needless to say, the 8C16T Ryzen 7 1700 handsomely outperforms the 4C8T Core i7-7700K in multi-threaded workloads such as video encoding and rendering. The AMD part also offers significantly higher performance-per-Watt than the i7-7700K in those same multi-threaded prosumer workloads and it does so while having a 65W TDP that delivers less stringent CPU cooler requirements. It even includes the Wraith Spire CPU cooler that features an RGB LED strip.

Once overclocking is added into the equation, the Ryzen 7 1700 offers most of the performance of the higher-priced Ryzen 7 parts and is able to outperform an Intel 8C16T Core i7 that is three times its price in a number of tests. If you are willing to allocate a few minutes to tinkering in the UEFI and a few hours to validate stability, the Ryzen 7 1700 can reward you with overclocking results that deliver a solid increase in performance.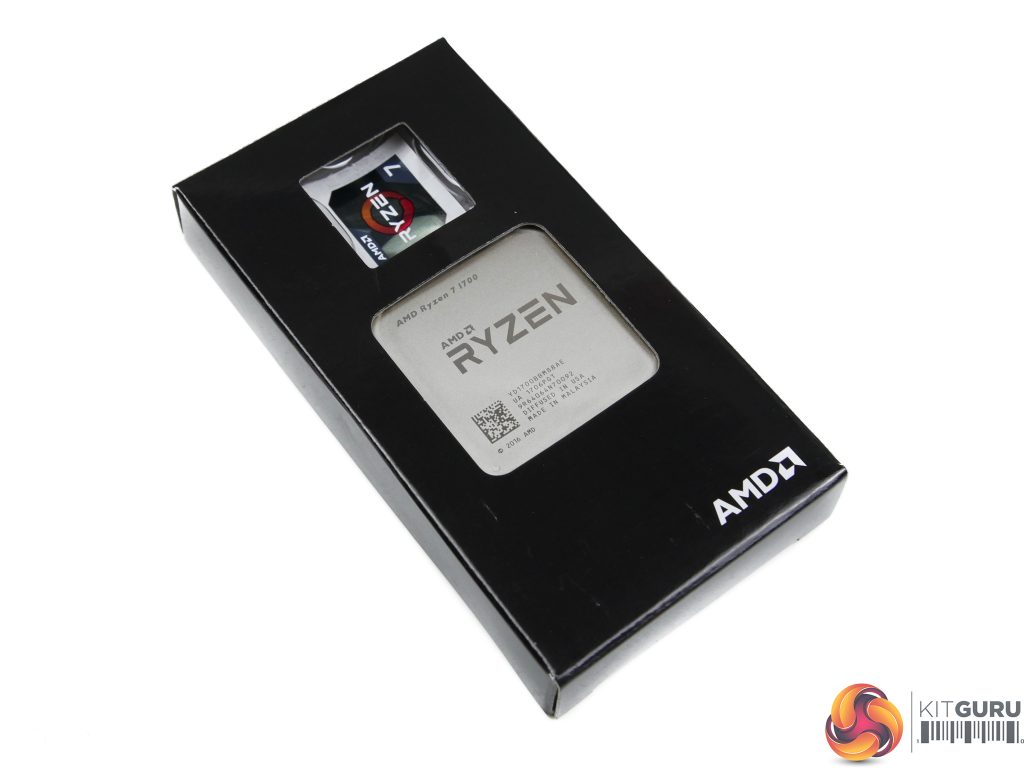 Gaming performance is still the same as other Ryzen 7 parts. If you have either the graphics horsepower or a low enough resolution to drive very high frame rates, Intel's Core i7 CPUs, especially the Kaby Lake 7700K, are better performers. However, if you game on a 60Hz monitor or have a graphics solution that means you'll be hitting a GPU bottleneck point before the CPU's, Ryzen 7 1700 holds its own in games.
There are also promises of updates and game patches being outlined by AMD, as well as the likelihood of developers better utilising the Ryzen 7 CPUs' performance in future titles, but we cannot analyse future 'suggested' performance. The point is, however, valid as potential performance improvements in future months and years should be considered when making the decision for which processor you want to buy. Ryzen 7 1700's multi-threaded performance would suggest that it has more to offer in gaming scenarios. With that said, games are not always best designed for scaling with thread count rather than clock speed or architectural performance (where Intel holds the advantage).
If you are a prosumer who has multiple workloads and want a balanced computer, that's where the Ryzen 7 1700 shines. Gaming performance may not be quite as fast as the i7-7700K at high refresh rates but the multi-threaded performance for AMD's 8C16T 1700 is vastly superior. If your day-to-day workloads involve video editing, rendering, file compression, or other heavily multi-threaded tasks and gaming is only a part of your system's duties, Ryzen 7 1700 is a superb choice that offers an excellent balance of performance at £330.

The AMD Ryzen 7 1700 is available for £329.99 (at the time of writing) from Overclockers UK.
Discuss on our Facebook page HERE.
Pros:
Excellent multi-threaded performance that is vastly superior to that of the Core i7-7700K.
Competitive performance against Intel processors three times its price.
Up to 3.75GHz XFR frequency helps single-threaded performance.
Unlocked CPU multiplier and overclocked to the same 4.0GHz as our Ryzen 7 1700X.
Excellent temperature and power results thanks to the low TDP.
Bundled RGB cooler is decent and 65W TDP is easy to manage.
Overall cost can be low thanks to the AM4 platform scalability.
£330 for an eight-core, sixteen-thread processor.
Cons:
Gaming performance is not best suited for ultra-high refresh rates and trails i7-7700K levels (outside of GPU-limited scenarios).
Lower memory frequency support compared to Kaby Lake.
KitGuru says: AMD's Ryzen 7 1700 builds on the superb level of price-to-performance offered by the 1700X and 1800X and can practically match their frequencies when overclocked. In multi-threaded workloads, the £330 Ryzen 7 1700 comfortably outperforms anything that Intel can offer at a remotely similar price point.