Grand Theft Auto V

Grand Theft Auto V remains an immensely popular game for PC gamers and as such retains its place in our test suite. The well-designed game engine is capable of providing heavy stress to a number of system components, including the GPU, CPU, and Memory, and can highlight performance differences between motherboards.

We run the built-in benchmark using a 1080p resolution and generally Maximum quality settings (including Advanced Graphics).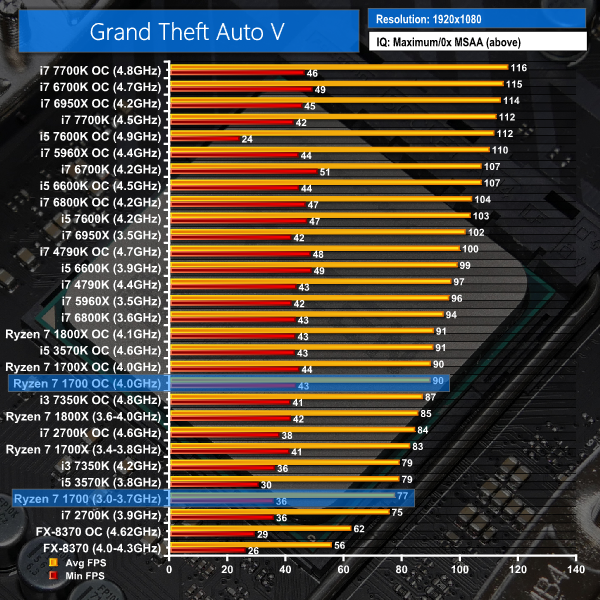 Metro: Last Light Redux

Despite its age, Metro: Last Light Redux remains a punishing title for modern computer hardware. We use the game's built-in benchmark with quality set to Very High, SSAA enabled, AF 16X, and High tessellation.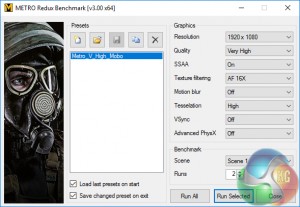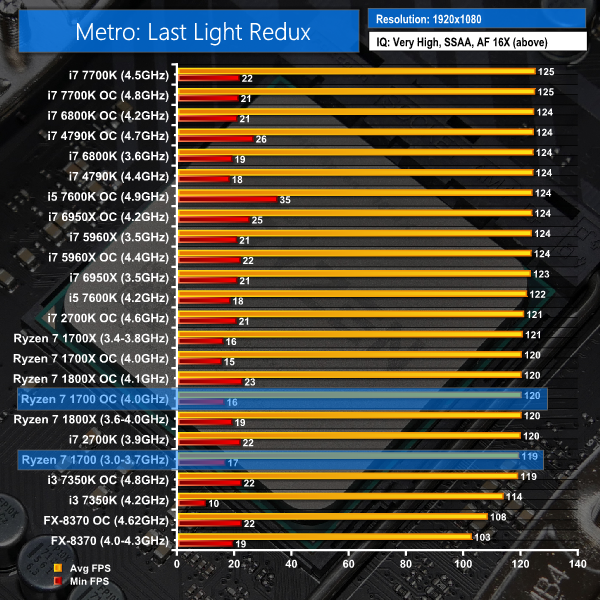 The Witcher 3: Wild Hunt

The Witcher 3 is a free-roaming game which can feature heavy interaction from NPCs in densely-populated urban areas, making it ideal for testing CPU performance. The well-designed game engine is capable of providing heavy stress to a number of system components and will happily use more than four CPU threads when such hardware is available.
We run a custom benchmark which is located in a heavily populated section of an urban town area. A 1080p resolution and Maximum quality settings are used (Nvidia Hairworks settings are disabled).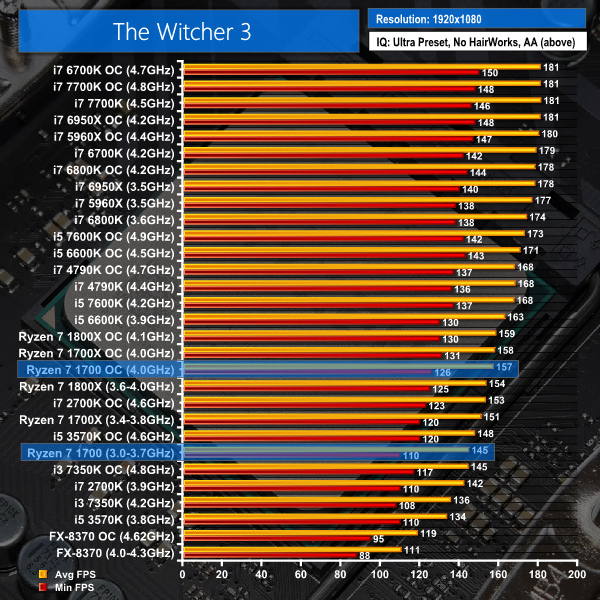 Gaming performance from Ryzen 7 has been given a lot of coverage by now, so it is somewhat of a known entity. The 1700 continues to show unimpressive gaming performance to those who are interested in high-refresh rates and frame rates above 60 FPS. Intel's Core i7-7700K is still king when it comes to DX11 gaming thanks to its well-tuned Skylake architecture and high clock frequencies.
If you are spending around £330 on a CPU purely for gaming, the Core i7-7700K is a better choice than Ryzen 7 1700. AMD has suggested that updates and patches will come from game developers, and there's also a slim improvement to performance when disabling SMT, but that doesn't deter from the point that the 7700K is a faster gaming chip in today's environment.
Of course, if you play any of these games on a 60Hz monitor (or even a <120Hz monitor for the last two), you are unlikely to notice any difference in performance between the Ryzen 1700 and Core i7-7700K. That point can also be extended to cheaper Core i5 CPUs.