7-Zip
7-Zip is an open source Windows utility for manipulating archives. We measure the Total Rating performance using the built-in benchmark tool. The test stresses all CPU cores to 100% and shows an affinity for memory bandwidth.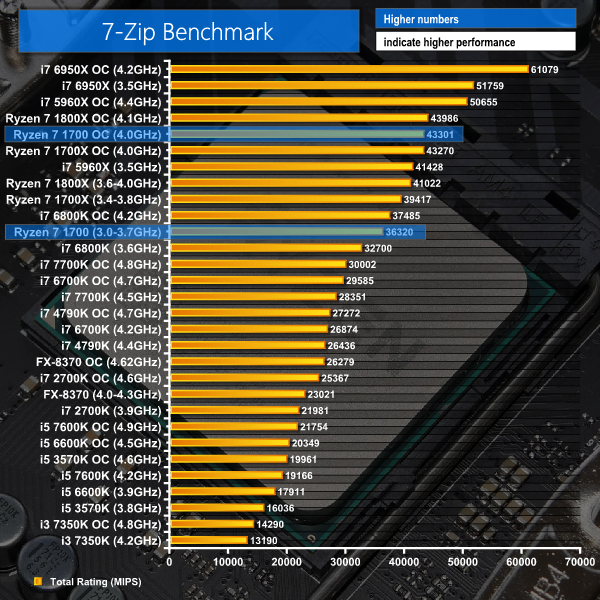 Mozilla Kraken

Mozilla Kraken is a browser-based JavaScript benchmark that tests a variety of real-world use cases. We use Chrome as the test browser. The test exhibits very little multi-threading and shows an affinity for CPU clock speed and IPC.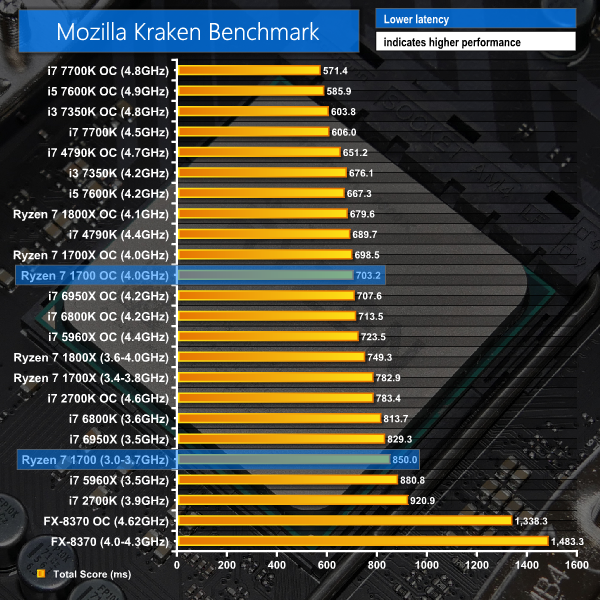 WPrime

WPrime is a leading multithreaded benchmark for x86 processors that tests your processor performance by calculating square roots with a recursive call of Newton's method for estimating functions. We use the 1024M test in WPrime to analyse processor calculation performance.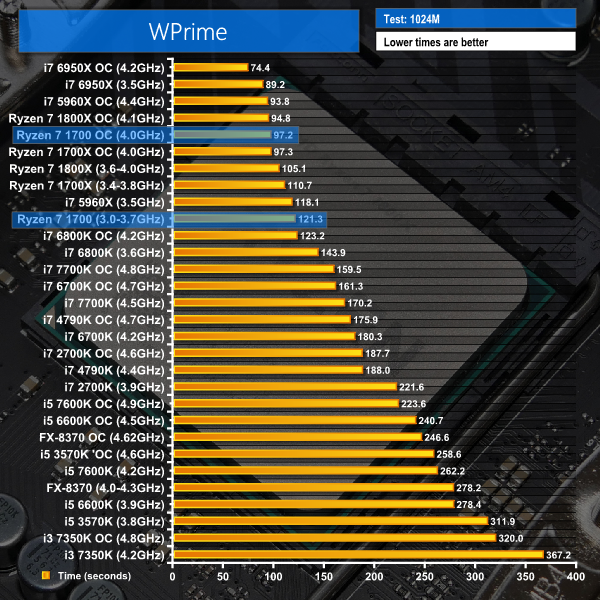 CPU-related testing overview:
7-Zip likes cores and memory bandwidth so Ryzen 7 1700 paired with fast DDR4 takes a comfortable position behind the Intel HEDT 8+ core chips. Even with the 7700K overclocked to 4.8GHz, stock-clocked Ryzen 7 1700 enjoys a 21% performance lead that extends to 43% with the AMD chip at 4.0GHz.
Kraken is largely single-threaded so the stock-clocked score for Ryzen 7 1700 sits around 5960X and 6950X levels due to the frequency limitations. At 4.0GHz, Ryzen 7 1700 shows a solid improvement and is able to offer slightly better performance than overclocked Core i7-5960X and 6950X competitors. Compared to the Kaby Lake 7700K and its superior architecture and higher clock speed, however, Ryzen 7 1700 takes a comfortable beating at both stock (40% slower versus stock 7700K) and overclocked (23% slower versus OC 7700K) speeds.
WPrime takes advantage of the 1700's sixteen threads for number crunching and returns stellar performance. The £330 chip comfortably holds its own against Intel's £1000 octa-core and the similarly-priced 4C8T 7700K is noticeably slower than Ryzen 7 1700, even with a 1GHz+ frequency advantage.