Cinebench
Cinebench is an application which renders a photorealistic 3D scene to benchmark a computer's rendering performance, on one CPU core, all CPU cores or using the GPU. We run the test using the all-core CPU and single-thread CPU modes.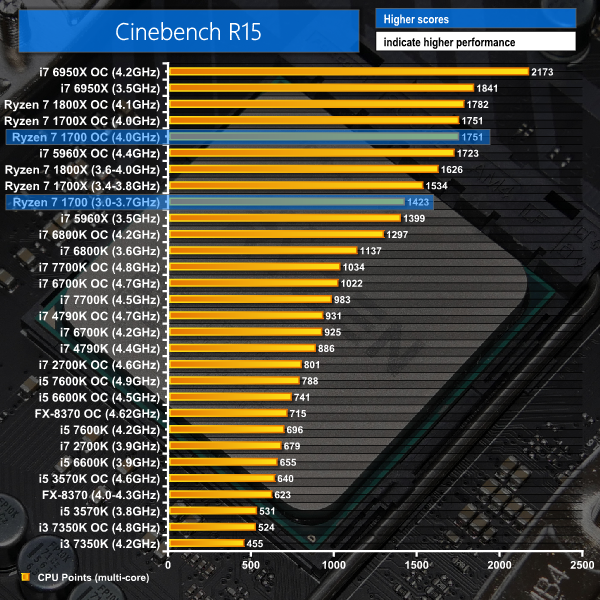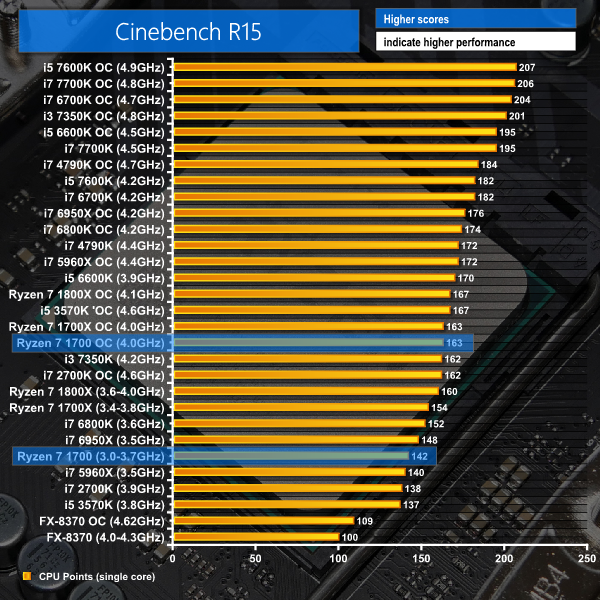 Handbrake Conversion
Handbrake is a free and open-source video transcoding tool that can be used to convert video files between different codecs, formats and resolutions. We measured the average frame rate achieved for a task of converting a 6.27GB 4K video using the Normal Profile setting and MP4 container. The test stresses all CPU cores to 100% and shows an affinity for memory bandwidth.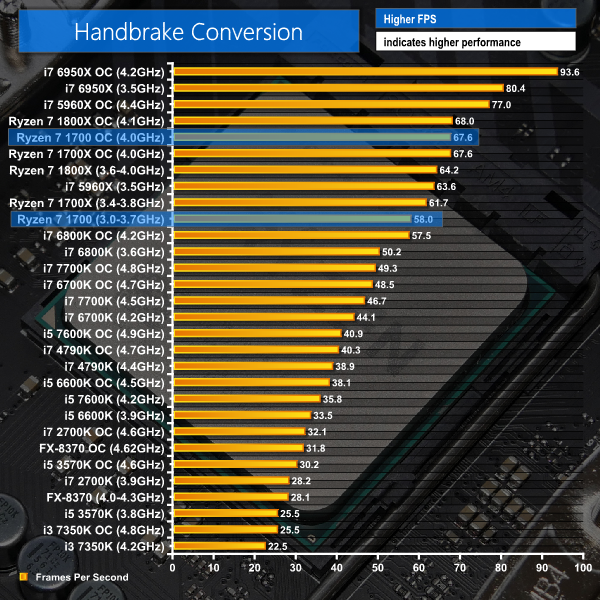 x265 Encoding

x265 Encoding tests system performance by encoding a 1080p test file using the x265/HEVC format.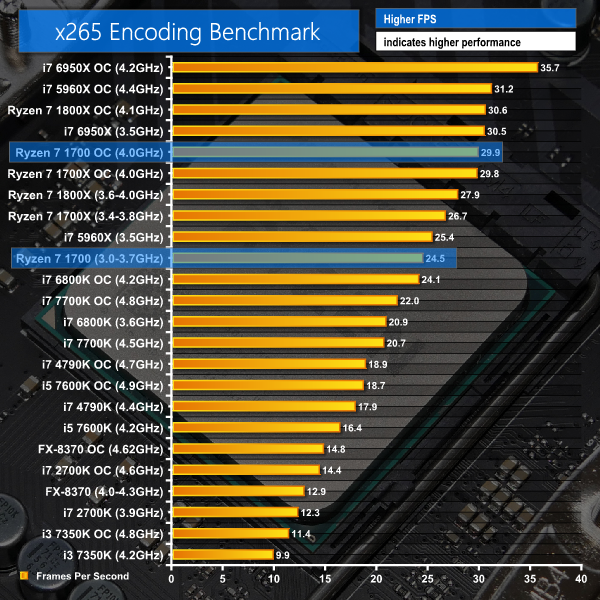 CPU-related testing overview:
Ryzen 7 1700, just like its bigger brothers, proves itself to be a solid option for multi-threaded workloads. The £330 CPU offers performance that is competitive against Intel's £1000 Core i7-5960X from yesteryear. That point is especially true when overclocking is added into the equation for both sides. The overclocked 1700 outperforming an overclocked 5960X chip that is three times its price in Cinebench is impossible to criticise.
A similarly-priced Core i7-7700K is comfortably outperformed in multi-threaded workloads by the Ryzen 7 1700. Stock versus stock, the 1700 is 45% faster than the 7700K in Cinebench multi-threaded and 69% faster when both CPUs are overclocked. The 1700's lead in Handbrake is 24% at stock and 37% with both processors overclocked. X265 encoding shows a similar trend.
Where Ryzen 7 1700 does not perform so well against Intel is the Cinebench single-threaded task. A 3.75GHz XFR clock salvages a respectable score around the 5960X level but once overclocking is factored in, the 1700 trails Haswell-E, Broadwell-E, and Skylake single-threaded performance largely due to its frequency deficit. If single-threaded performance is important to you, the Core i7-7700K at its forced-turbo speed is 37% faster than Ryzen 7 1700. That advantage still sits at a sizeable 26% with both processors overclocked.
The short summary for these tests is that Ryzen 7 1700 can hang with Intel HEDT chips three times its price in multi-threaded workloads, especially when overclocked. The similarly-priced Core i7-7700K is completely outclassed by Ryzen 7 1700 when you can leverage its sixteen threads. However, single-threaded performance is better on Intel's modern parts, especially when overclocked due to their higher frequency capabilities.