Overclocking the Ryzen 7 1700 was a practically identical procedure to that of the 1700X and the 1800X. The main settings worth tweaking for CPU overclocking are the CPU VCore, loadline calibration, and SOC voltage to aid stability especially with higher-speed memory kits. If your motherboard has the option in its UEFI (which ASUS' C6H does not), bumping NB voltage up to around 1.10-1.15V can aid stability.
Default voltage for manual tuning should start at around 1.3625V, according to AMD. Users should be fine pushing to 1.40V with a decent CPU cooler and up to 1.45V with a high-end dual-tower heatsink or dual-fan AIO radiator. At 1.45V, however, AMD suggests that processor longevity could be affected according to their models.

We used the same overclocking procedure for our Ryzen 7 1700 chip as we did for the 1700X. That meant applying a 1.41875V VCore in the ASUS UEFI with Level 2 LLC (to get close to 1.4V under load). With this configuration, load voltage hovered around 1.395-1.417V and idle voltage was higher due to a low current flowing through the CPU.
SOC voltage was set to 1.25V and our memory was maintained at 3200MHz 14-14-14-34 with 1.35V.
In short, our final Ryzen 7 1700 overclocking settings using an ASUS Crosshair VI Hero motherboard were:
1.41875V CPU VCore.
1.25V SOC voltage.
Level 2 LLC (around 1.395-1.417V load VCore in OS).
Multiple Cinebench R15 multi-core runs to validate stability, as well as AIDA64 CPU stress test.
DDR4-3200MHz 14-14-14-34 @ 1.35V.
AMD Ryzen 7 1700 Overclocking – 4.0GHz Stable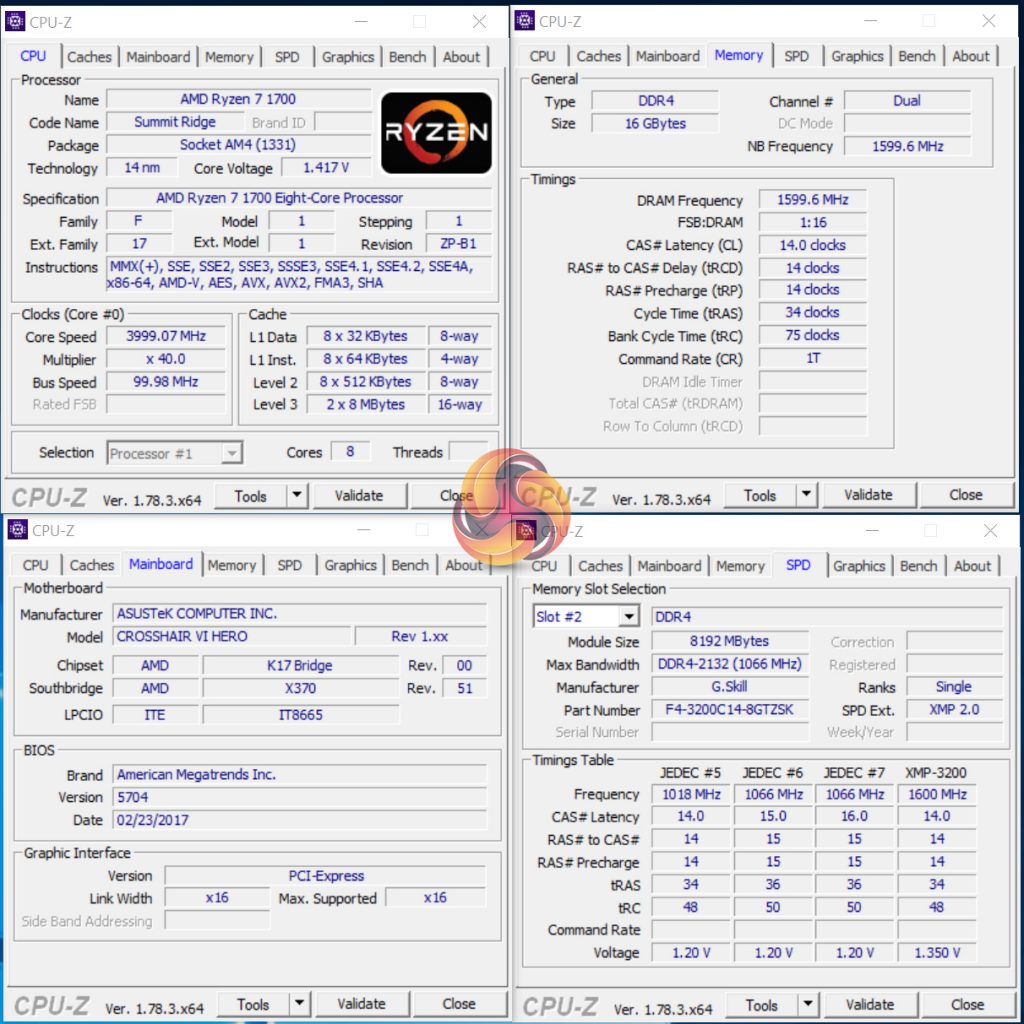 Our Ryzen 7 1700 chip at 4.0GHz with a load voltage between 1.395-1.417V was stable through Cinebench, Handbrake, and a short run of Prime 95. We would be happy running at these levels for 24/7 usage with our particular silicon. We didn't test with lower voltage levels as this result was perfectly stable on our chip and temperatures did not get out of hand with the Noctua NH-D15 cooler.
We have seen reports of 1700 CPUs generally hitting around 3.8-4.0GHz with sensible voltage levels and our results would add to those suggestions. A stable overclock matching that of our 1700X sample is a very impressive result for the 1700. Though there are no guarantees with the silicon lottery, our results mapped into the real world basically translates into a £70 saving versus the 1700X and a free CPU cooler. That's a good deal for enthusiasts who are willing to spend a few minutes tweaking within the UEFI and a few hours to validate stability.
The chip may have pushed a little higher with SMT or cores disabled but we didn't try any of that. We preferred 4.0GHz with all eight cores and SMT enabled and a sensible 24/7 voltage level.
High-speed Memory Support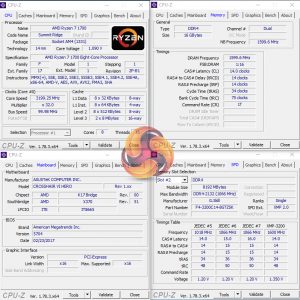 We were able to use 3200MHz dual-channel DDR4 (2 single-sided DIMMs) with the Ryzen 7 1700 while at stock clocks and when overclocked to 4.0GHz. This was the case using the ASUS Crosshair VI Hero motherboard.
The less-prime silicon forming our 1700 did not seem to have a profound influence on IMC strength, up to our tested level of 3.2GHz CL14, that is.
There are still some early BIOS and platform bugs with the AM4 platform and high-speed memory. However, our G.Skill Trident Z 2x8GB 3200MHz has worked fine with four different Ryzen 7 CPUs, even if the ASUS motherboard can be a little temperamental from a cold boot. We found that booting from cold using 2933MHz and then restarting the system to apply 3200MHz can solve any cold boot high-speed memory issues.