For our temperature testing, we measure the peak GPU core temperature under load, as well as the GPU temperature with the card idling on the desktop. A reading under load comes from running the 3DMark Fire Strike Ultra stress test 20 times. An idle reading comes after leaving the system on the Windows desktop for 30 minutes.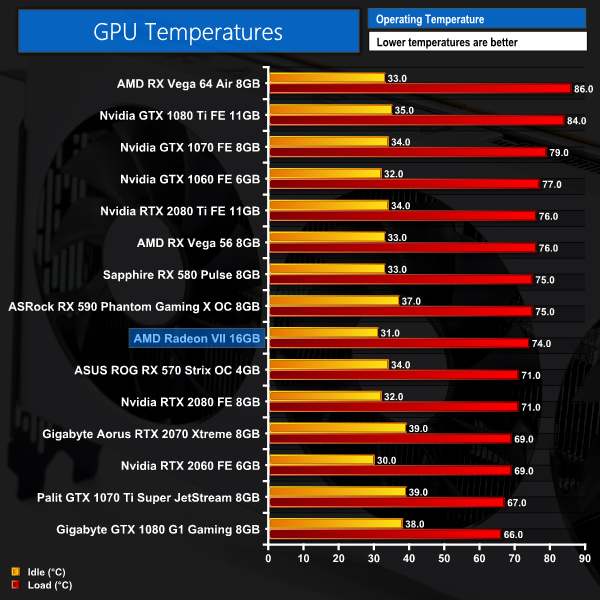 I have to say, thermal performance for AMD's reference Radeon VII is not bad at all. We saw the card peak at 74C, meaning it operates a full 12C cooler than Vega 64. There are several factors at play that help explain this, but I would suggest the move away from a blower-style cooler to the triple-fan setup on the Radeon VII is a big help – the only downside being it puts the onus of exhausting the card's hot air onto your system's cooling, rather than the card itself, but that is only really a problem when dealing with very compact cases.
Of course, how fast those three fans run is also a big factor – but that is something to assess when we come to noise levels on the next page.
Taking a look at the card with our thermal gun shows no temperature spikes that we would worry about. Unsurprisingly, the hottest part on the card is directly behind the GPU core, but this didn't reach above 74C. The front side of the card didn't reach 61C, either, which is another good result.
Be sure to check out our sponsors store EKWB here