We take our noise measurements with the sound meter positioned 1 foot from the graphics card. I measured the sound floor to be 34 dBA, thus anything above this level can be attributed to the graphics cards. The power supply is passive for the entire power output range we tested all graphics cards in, while all CPU and system fans were disabled.
A reading under load comes from running the 3DMark Fire Strike Ultra stress test 20 times. An idle reading comes after leaving the system on the Windows desktop for 30 minutes.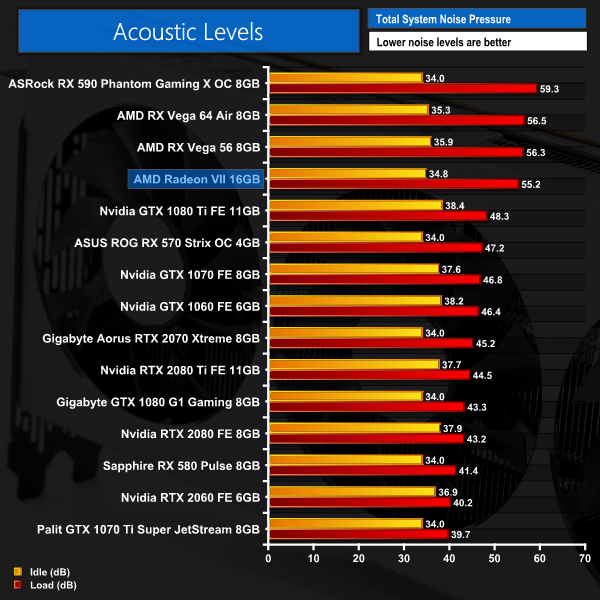 Here we find the biggest weakness of the reference Radeon VII graphics card – it is very loud. I measured it to be 1dB or-so quieter than the Vega 56/64 cards, but even so it is very hard going for the ears.
To give you some more information as to why this is, a quick check of the three fans' speed shows those fans running between 2900-2945RPM with the card under full load. To my mind, it seems the decision to go with three smaller (75mm) fans has resulted in each one have to spin at quite a pace – giving us the very poor noise levels as shown above. I couldn't tell you how 2x 100m fans, for instance, would have performed instead – but there's no denying this is a very loud card.