About three weeks on from the launch of GTX 1660 Ti, Nvidia has released its smaller brother – the GTX 1660. Both use the same TU116 GPU, though with GTX 1660 it has one TPC disabled – meaning 128 less CUDA cores. The 6GB of memory is also GDDR5, not GDDR6.
The specific card we have looked at today is the MSI GTX 1660 Gaming X. It uses the same cooler and shroud design as MSI's GTX 1660 Ti, and it is really very technically proficient. GPU temperatures peaked at just 63C, and that was with the fans hardly spinning, too – noise levels are the lowest we have seen from any card of this generation.
Clearly, MSI's cooler is more than capable enough of cooling both the GTX 1660 and GTX 1660 Ti, and it shows – from a technical standpoint, this is probably one of the best GTX 1660 cards we will see.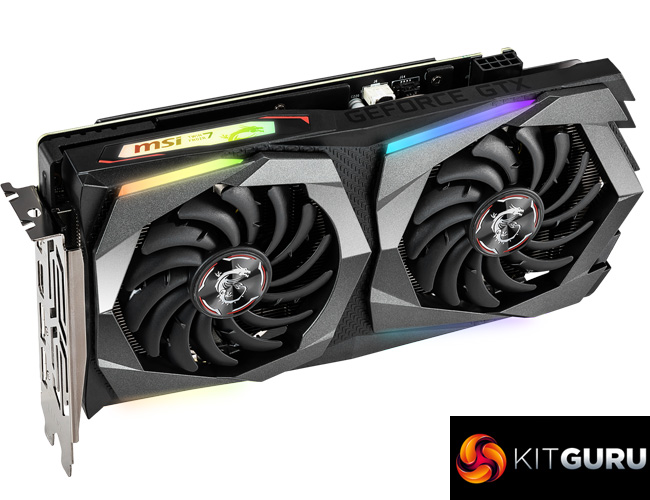 As for the actual gaming performance of GTX 1660, it is very much trading blows with AMD's RX 590 – the performance difference between the two cards is barely 2% in the RX 590's favour, though it does vary slightly on a game-by-game basis. Compared to GTX 1060, this new Turing-based card comes in 15% faster on average.
For me, GTX 1660 is best suited for 1080p gaming, where it would typically push around 70FPS, even in demanding titles. The jump up to 1440p is possible, but it really depends on how smooth you like your gameplay – frame rates can dip down as low as 33FPS depending on the title, with average FPS hovering around the 40-50FPS mark.
It's a decent performer, certainly, and I can imagine it appealing to any aspiring esports gamers looking to get good frame rates while gaming at 1080p. That being said, I don't think a 15% improvement over GTX 1060 is something to go wild about. I do appreciate the GTX 1660 MSRP is £40 lower than what GTX 1060 launched for, but even then this is hardly a monumental leap forward for the £200 market segment.
If we look at this specific card in question, however, things are complicated further – GTX 1660s will start at £199, but this MSI Gaming X card has its own MSRP of £249.99. I have to say, this is just ridiculous. I'm all for board partners releasing custom cards with low temperatures and acoustics – but when those models come with a 25% price premium, for what is really a value graphics card, it just makes no sense.
Looking at the bigger picture, too, GTX 1660 Ti starts at £259 – so just £10 more than this 1660. Considering Gigabyte's 1660 Ti OC 6G is itself on average 15% faster than this 1660, it really is a no brainer. MSI is just pricing itself out of this budget-oriented market with the Gaming X.
We will have to wait and see how compelling a GTX 1660 priced at £199 will be. Based on past experience, a reference clocked 1660 will probably perform about 2-4% slower than this factory overclocked model, but even that would offer far superior value when compared to the Gaming X. AMD's RX 590 is the closest competitor to GTX 1660, but pricing remains north of £240 for even the cheapest models at the time of writing.
That means GTX 1660 has the potential to become the go-to card in the £200 market segment as it does outperform both GTX 1060 and RX 580 – the two cards currently occupying this price point – though we will have to wait and see how a card that is actually priced at £199 performs.
For now, we can say MSI's GTX 1660 Gaming X 6G is a superb offering from a technical standpoint, but with its £50 (25%) price premium over GTX 1660's MSRP, it really makes no sense to actually go out and buy one.

Update: Shortly after going to press, this GTX 1660 Gaming X was made available on Overclockers UK for £229.99. This is £20 less than the card's MSRP given to us by MSI and definitely makes things more palatable. That being said, the Gaming X is still priced 15% higher than the £199 MSRP so our original conclusion remains. GTX 1660 is a good buy at £199, but higher-end cards like the Gaming X aren't as appealing.
Pros
Dead silent.
Temperatures are very low.
High clock speed out of the box.
Overclocked well.
Cons
£249.99 price at launch puts this in an impossible position.
KitGuru says: MSI's GTX 1660 is technically excellent. However, you just cannot justify the £249.99 MSRP when GTX 1660 Ti starts for just £10 more.