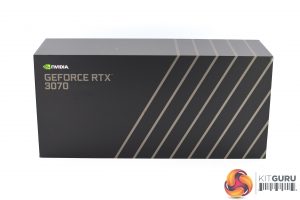 The Nvidia RTX 3070 Founders Edition ships in the same black box as the RTX 3080, with the GeForce branding printed in silver text.
Inside, the small accessory pack consists of a support guide, a quick start guide and a safety note about using 'third-party power dongles' with the graphics card.
Of course, Nvidia provides its own power adapter, and considering the 3070 has a TGP of 220W, only a single 8-pin connector is required.
The graphics card itself bears significant resemblance to the RTX 3080 Founders Edition in terms of the overall aesthetic, but the cooler layout is different. Where the 3080 placed one fan on the underside and another on the topside, the RTX 3070 uses a more conventional approach, with both fans pushing air from the bottom the card.
The fan on the right hand side still pushes air straight through the heatsink and out of the top of the card, thanks to a large cutout in the backplate. The fan on the left-hand side pushes air up and over the PCB, which should be exhausted out of the case via the I/O bracket. Each fan measures 85mm across. Nvidia also claims its finstack design 'visually elevates and functionally enhances the airflow-centric design'.
In terms of the overall size of the cooler, Nvidia has managed to shrink the RTX 3070 a fair amount compared to the RTX 3080. Where that card measures 285mm long, the RTX 3070 is 43mm shorter, coming in at 242mm x 112mm, with a standard dual-slot thickness. This also means it is a bit shorter than the RTX 2070 Super FE, which is 267mm long, though the RTX 2070 (non-Super) Founders Edition is smaller still at 228mm long.
On the front side of the card, just like the RTX 3080, we can see the GeForce RTX branding to the right of the power connector. Sadly, this does not illuminate with white LEDs, unlike the 3080.
As for the backplate, it's overall fairly plain to look at, but I quite like that. It's devoid of any logos or branding apart from the words 'RTX 3070' printed in very small text, with the large cut-out also very visible on the right hand side. As mentioned, this allows the airflow from the fan to pass directly through the heatsink.
Nvidia is once again using its 12-pin power connector with the RTX 3070, and this is placed right in the middle of the card which could make cable management a slight struggle for those who insist on the cleanest-looking PC possible. As with the RTX 3080, though, all of the AIB cards will use traditional 8-pin and 6-pin connectors.
For display outputs, we have 3x DisplayPort 1.4a, and then 1x HDMI 2.1 capable of the full 48Gbps bandwidth.