We take our noise measurements with the sound meter positioned 1 foot from the graphics card. I measured the sound floor to be 34 dBA, thus anything above this level can be attributed to the graphics cards. The power supply is passive for the entire power output range we tested all graphics cards in, while all CPU and system fans were disabled.
A reading under load comes from running the 3DMark Fire Strike Ultra stress test 20 times. An idle reading comes after leaving the system on the Windows desktop for 30 minutes.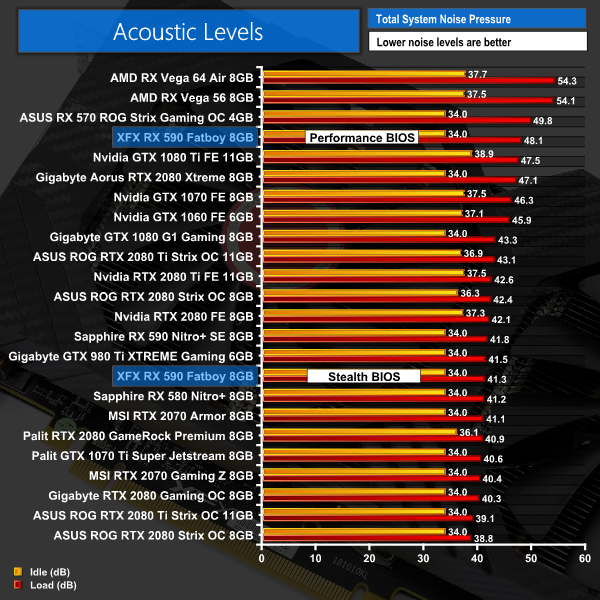 Here we come to one of the downsides to the XFX Fatboy – it is rather loud when using the performance BIOS, with a peak of just over 48dB making it around 6dB louder than the Sapphire Nitro+ RX 590..
Of course, the stealth BIOS drops this to 41.3dB, making it essentially the same as the Sapphire card, but we have to remember that BIOS also runs significantly hotter. To my mind, the Sapphire RX 590 cuts a much better balance of offering good thermals and low noise levels – with the XFX Fatboy, you seemingly have to choose between 'loud and cool' or 'quiet and hot'.