Here we present the average clock speed for each graphics card while running the 3DMark Fire Strike Ultra stress test 20 times. We use GPU-Z in tandem with the Powenetics Project to record the GPU core frequency during the Fire Strike Ultra runs – at the end, we are left with around 4300 data entries.
We calculate the average core frequency during the entire 20-run test to present here.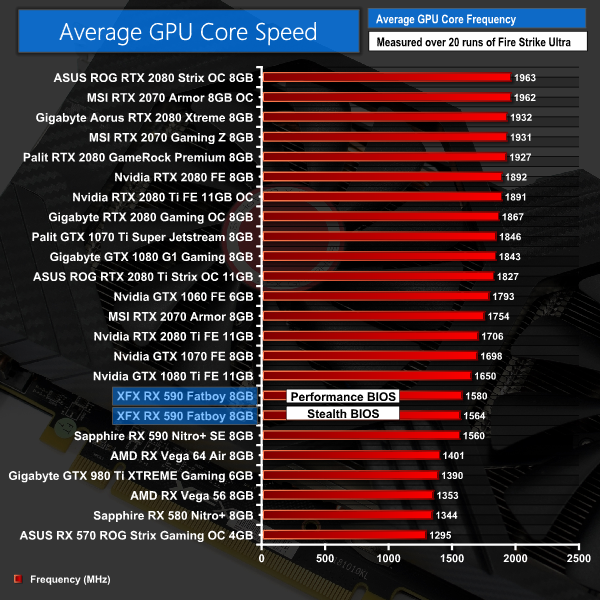 Here it is important to note that Nvidia and AMD cards behave differently when it comes to clock speed. Nvidia cards will almost always exceed their rated boost clocks (assuming there is thermal headroom) thanks to GPU Boost technology. AMD cards don't do that – they will either run at exactly their rated boost clock, or slightly slower if temperatures are high.
That is exactly what we see when testing the average clock speed of the XFX Fatboy – using the performance BIOS, it held absolutely steady at 1580MHz. The stealth BIOS, however, drops the fan speed (pushing up temperatures) and so the clock couldn't be maintained as high, but it still sat at 1564MHz.
Both of these are higher than the average clock speed of the Sapphire RTX 590, though, despite that card edging ahead in our benchmarks. As we saw, the different is very small – a fraction of a frame – but the Sapphire does have faster memory at 2100MHz (versus 2000MHz for the Fatboy) so we put that down as the explanation.