For our temperature testing, we measure the peak GPU core temperature under load, as well as the GPU temperature with the card idling on the desktop. A reading under load comes from running the 3DMark Fire Strike Ultra stress test 20 times. An idle reading comes after leaving the system on the Windows desktop for 30 minutes.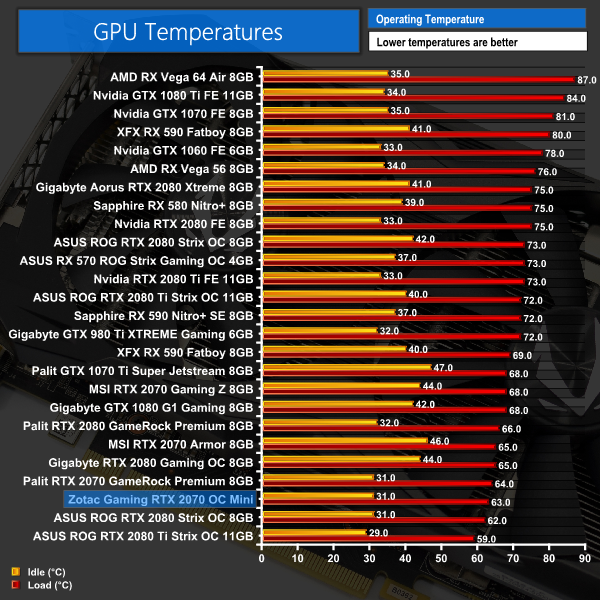 The Zotac does very well in terms of temperatures, though, peaking at just 63C on the GPU core. This is a fair bit lower than I was expecting for a card of this size, but there are two main factors at play here – it is running slower than other 2070s, as we saw on the previous page, while acoustics and fan speeds are the other factor which we will get to on the next page.

That being said, Zotac has clearly done its utmost to get a card this small running as cool as possible, and I am very impressed with this result.
Our thermal gun also surprised me with the very low temperature for the side of the card. The reason for this, however, is that the side of the card is actually part of the backplate as we showed earlier in the review – so we are not getting a look at the temperature of the card's heatsink, but of the side of the backplate which is going to stay a lot cooler.
The hot spot on the rear of the card came from the area directly behind the GPU core, and this peaked at just over 61C which is another excellent result.