We take our noise measurements with the sound meter positioned 1 foot from the graphics card. I measured the sound floor to be 34 dBA, thus anything above this level can be attributed to the graphics cards. The power supply is passive for the entire power output range we tested all graphics cards in, while all CPU and system fans were disabled.
A reading under load comes from running the 3DMark Fire Strike Ultra stress test 20 times. An idle reading comes after leaving the system on the Windows desktop for 30 minutes.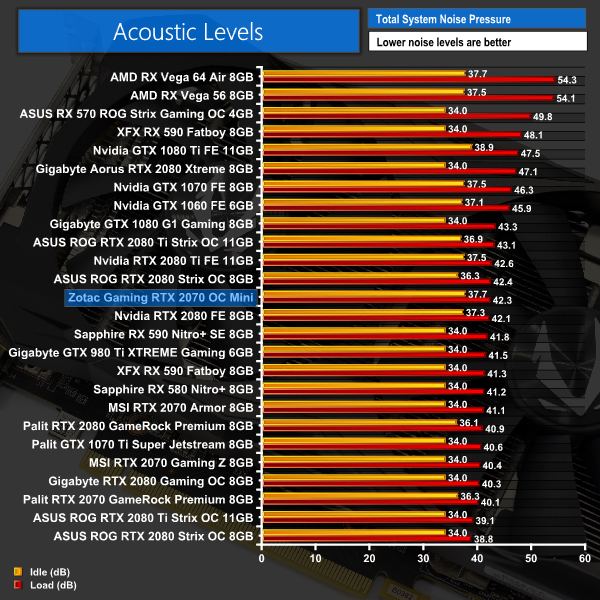 Coming now to noise levels, this is perhaps one area where the card has to make some sacrifice to achieve its low temperatures in such a small body. Peaking over 42dB is not exactly loud – but it is definitely louder than the other full-size RTX 2070 cards we have seen. The Palit 2070 is 2dB quieter, for instance, and while it doesn't seem like a big difference on paper, you can definitely tell the difference between the two.
There is no fan-stop mode either, so the fans always spin at a constant 1000rpm even when the card is not under any load. This isn't really a negative point as you can hardly hear the gentle whirr, but it is worth pointing out.