Having reviewed a number of RTX 2070 cards – all generally quite large and quite fast, I was very interested to get my hands on the Zotac RTX 2070 OC Mini.
We've seen a number of these Mini cards from Zotac in the past, but this is our first look at an RTX 20-series chip that has received the 'Mini treatment', and I have to say Zotac has done a very good job.
That's because the card actually runs very cool considering its diminutive size, with a peak of just 63C on the GPU core. Power consumption is also the lowest we have seen from an RTX 2070, so that could also be a factor for some.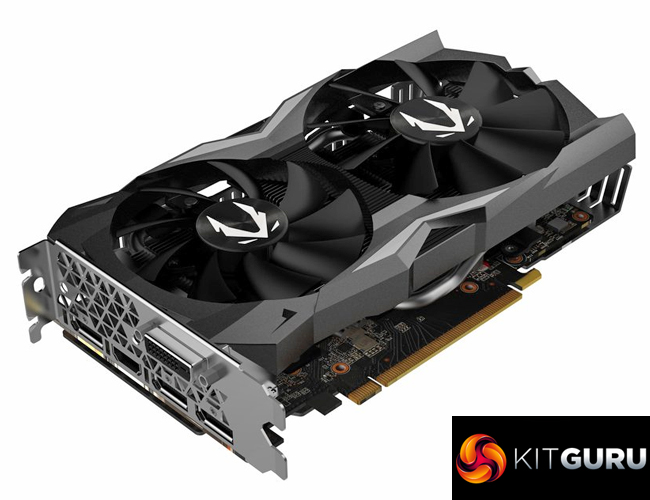 Zotac was able to achieve such impressive thermal performance in two main ways. Firstly, while I wouldn't categorise the card as 'loud', it is certainly more audible than full-size RTX cards we have seen over the past couple of months – so you would have to be willing to settle for something not as easy on the ears if you went for a Mini.
On top of that, the Zotac 2070 OC Mini can't run quite as fast as its full-size brethren. It is by no means a slouch, but if we look back at our game performance figures, it is typically 2-3 frames per second slower than the next RTX 2070 card on the chart at 1080p and 1440p resolutions. This was the case whether we were playing titles like Deus Ex: Mankind Divided, or playing Battlefield V with DXR turned on.
We were able to make up this performance difference via overclocking, though, as our sample managed an extra 125MHz to the GPU core and 750MHz on the memory. This brought our frame rates pretty much in-line with heavily factory overclocked 2070 cards from the likes of MSI and Palit, at the expense of slightly increased temperatures and noise levels.
So overall, I have to say I am very impressed with what Zotac has done with its RTX 2070 Mini card. If you've got a standard mid-tower desktop it obviously doesn't make much sense, but if you want to bring high fidelity gaming to your living room in a small chassis, or even build a portable ITX rig for LAN events, this will do the job very nicely – the main compromise for me is the acoustics, but even then it is really not that loud.
What I would say, though, is get the RTX 2070 Mini – not the RTX 2070 OC Mini that I have reviewed here. The cards are exactly the same in terms of build, size, cooling – the only difference is the OC model ships with a 30MHz faster core clock out of the box. It is not very much at all, yet it commands an £80 price premium over its marginally slower brother.
For me, £80 for an extra 30MHz is not worth it – the performance difference between the two cards would be next to nothing, and you could easily make up the gap (and then some) via overclocking. So I have to commend Zotac for making an impressively small RTX 2070 graphics card which is all-round very capable, but if you are looking for a card like this, get the reference clocked version and save yourself the extra £80 you would've paid for the OC edition.
You can find the Zotac RTX 2070 OC Mini for £539 on Amazon HERE.

The model I recommend getting, the RTX 2070 Mini (non-OC), can be found on Overclockers UK for £458.99 HERE.
Pros
Very compact.
Inoffensive design.
Impressive thermal performance.
Overclocked well considering the size.
Low power draw.
Only 1x 8-pin PCIe power connector required.
Cons
Factory OC model is £80 more expensive for just an extra 30MHz.
You will notice the difference in noise between this and a full-size 2070.
KitGuru says: Zotac has made another impressive little card with its RTX 2070 Mini. It's an all-round solid card for anyone looking to save as much space as possible – just make sure to go for the reference clocked model instead and save the £80.