When I first analysed Nvidia's GTX750ti back in March I was supremely impressed with the Maxwell architecture. This was a card that when overclocked could keep up with AMD's HD7850. When you realised it was consuming half the power at the socket and didn't even need an external PCI e connector it was difficult not to appreciate how far Nvidia had moved the goalposts.
I said at the time that I was excited to see how Nvidia would incorporate the Maxwell architecture into higher end models at a later date … and here we are today.
Nvidia's GTX980 is one of the most exciting high end solutions I have tested for a launch day event. AMD have been struggling with power consumption and heat for a long time now and Nvidia have managed to maintain GTX780ti performance while reducing power consumption to less than 160 watts when playing the latest Direct X 11 games.

Sure, some of you may balk at the mention of power consumption- who cares if its consuming less watts? We all should, because remember – this reduction in heat means cooler running graphics cards, slower running fans and the potential for gargantuan overclocking headroom. You will also save some money with an electricity bill over the course of a year, but that is a discussion for another day.
The Geforce GTX980 runs at higher clock frequencies than any other reference Nvidia card, however this is only the tip of the iceberg. Our sample was able to reach boost core speeds of 1,418mhz … from 1,216mhz. There is certainly immense potential for water cooling and LN2 lovers.
At reference clock speeds the GTX980 is very closely matched against the overclocked Asus GTX780Ti Direct CU II OC which we included in our review today. The GTX980 in our testing has a slight performance edge most of the time – while demanding 30% less power to do so. Those who have complained about the GTX780Ti having only 3GB of memory will be pleased that the GTX980 now has 4GB – useful when dealing with heavy texture based titles across multiple screens or at 4k resolution.
When overclocked to 1,400mhz+ performance levels increase dramatically. This is the first single GPU graphics card that has scored 20,000 points in the graphics test of 3dmark11.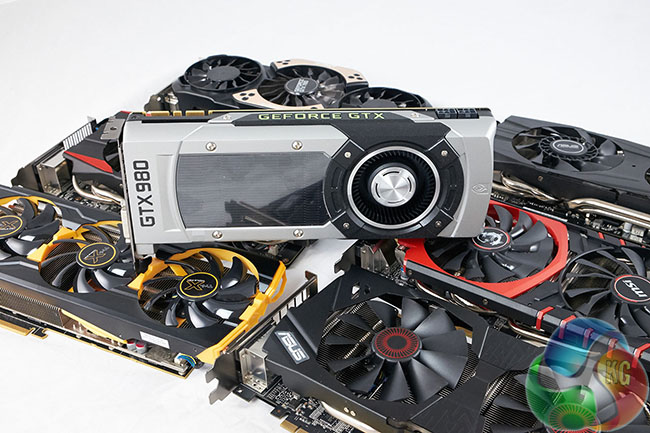 Nvidia told us before launch this week that they plan on releasing the reference GTX980 at £429.99 inc vat to the UK market. This is almost £100 less than a reference GTX780ti available on Amazon this week. Nvidia are clearly planning on phasing out the GTX780Ti over the coming months because we honestly see no reason to buy the older model anymore.
We would expect Nvidia partners to start releasing custom cooled, overclocked GTX980 in the coming weeks, with a slight premium – perhaps in the £460-£480 sector. At the price, AMD really have nothing to compete against the GTX980, especially when you factor in the performance to watt ratio. It will be interesting to see how AMD answer the release of the new Maxwell cards – we would expect to see big price drops over the coming months because until they release new architecture there is little else they can do.
There is no doubt right now, if I was buying a high end graphics card myself and had £450 to spare, the GTX980 would be right at the top of the list. Also, let us not forget the GTX970 which has also been released today – this is a solution you won't want to miss, especially at the incredibly competitive price point – check out our front page for more reviews on this one.
Discuss on our Facebook page, over HERE.
Pros:
power efficiency is unmatched in the high end.
4GB GDDR5 memory.
masses of overclocking headroom.
quiet.
Nvidia reference cards look great.
class leading performance at the price.
launch price of £429.99, £100+ less than many GTX780Ti prices.
Cons:
You would still need two of them for high frame rates at 4K resolutions.
Kitguru says: Nvidia are breaking new ground with their Maxwell architecture. We applaud them for addressing heat and power consumption while still delivering class leading performance – at a new all time low price point. Expect AMD price reductions over the coming weeks.