If you are in the market for a new 4K monitor or have just bought one then be prepared to pay serious cash to achieve those super silky smooth 60+ frame rates. Granted a single Nvidia Titan X delivers a commendable 4K experience but if you like to play with the highest possible image quality settings then it will struggle, depending on the demands of the specific game engine.
4K may be the future of PC gaming, but right now the costs are undoubtedly prohibitive. The price of the monitor itself is only a small part of the story. For those with deeper pockets however, there are options.
I use two overclocked GTX980's in my own gaming system and have had some memorable gaming sessions at 3,840 x 2,160. Unfortunately, when moving from 2 card SLI to Tri or Quad SLi, performance scaling holds far from a level we would want. Engine profile optimisations are always best with one or two Nvidia cards – the most obvious driver development focus for both Nvidia and AMD.

In reality, building a system with three or four GTX 980's isn't quite as smooth sailing as we would like. Even in 2015 games continue to scale very badly, and some not at all. Two cards is really the ideal configuration for maximum performance and driver profile compatibility.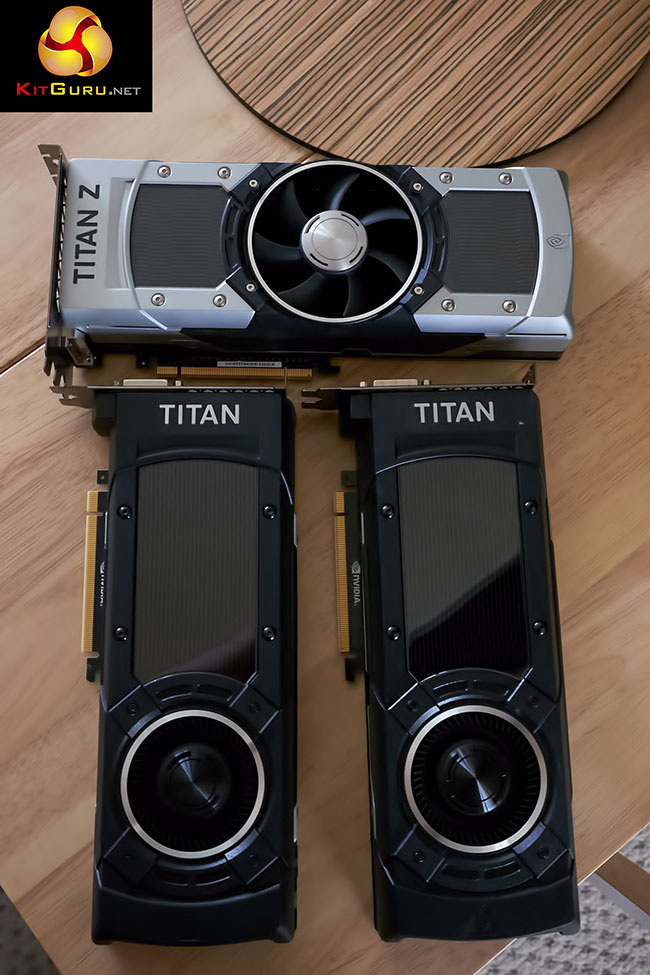 There is no doubt that the GTX Titan X is another knockout product from Nvidia, the new GM200 at the heart of the graphics card is a phenomenal design. There really is no competition for the Titan X right now – although even the GTX980 has yet to face any real competition from AMD.
The Titan X only really makes sense at 4K. It is able to power many game engines and maintain frame rates above 30 at all times. If you want solid 60+ frame rates, then adding another Titan X reaps good reward, albeit at considerable expense.
The Titan X ships with a new black reference cooler, and it performs reasonably well. At default settings, the card is likely to run at 84c when playing games, constantly. As Nvidia haven't felt the need to fit a substantial backplate, hotspots on the rear of the PCB are hitting 90c, which while not dangerous, is certainly greater than I would like to see. Our testing earlier in the review with a Visual IR Thermometer/Infrared Thermal Camera highlights these points.
What alternatives are there for 4K gaming? Nvidia have the Titan Z, which is slower and more expensive than even two Titan X graphics cards. I would say there is no market for this solution any more – if you can still find one new, they are still selling for around the £2,000 mark. The performance does not come close to justifying the cost.
The GTX980 is still a solid option for 4K – in SLi. That said, the 4GB of GDDR5 is a limiting factor for many. The Titan X is equipped with a 12GB framebuffer – a huge amount of memory, even for 4K gaming. The GM200 is likely to run out of grunt long before any game would be calling upon anything close to the limits of the hardware. As we said before however, the design and release of the Titan X does open the door for a 6GB GTX980 ti at a later date.
We all know the AMD R9 295X2 is a wonderful solution, and current price drops to £499.99 inc vat mean it is difficult to ignore. If you are buying an AMD solution for 4K gaming, this is the one to get. The liquid cooling helps reduce noise under load and keep the hot running architecture in check.



Overclockers UK have a range of Titan X cards for sale already, with many still on pre-order. You can see the options over HERE. Remember all Titan X cards are reference designs, so shop around – you will only be paying extra for a brand name from an Nvidia partner.
Discuss on our Facebook page, over HERE.
Pros:
Nvidia architecture is leading the way
Nvidia reference cooler looks great.
solid SLI scaling.
unlikely to ever run out of memory.
Overclocks surprisingly well. (1,280mhz boost+)
Cons:
no backplate and some hotspots on the PCB.
Double precision is slow.
overkill for 1080p, 1440p and 1600p.
12GB of memory is excessive.
£900 x2 =£1,800. It is Visa card hell.
Kitguru says: The Nvidia Titan X is a monster GPU targeting the 4K audience with deep pockets. It is mighty expensive, but if you must have the best, there is little competition.