The £620 Nvidia GTX1080 may have been stealing all the headlines in recent weeks, but there is no doubt that the GTX 1070 sets a new performance benchmark at the price point.
Before I delve any further into my closing thoughts, I do need to mention the pricing and this is more directed at the UK audience. Nvidia have said that the retail price of the GTX 1070 Founders Edition card is $449 and if we do a conversion today, this works out at £311. As UK enthusiast gamers know, its not that simple, so if we add on 20% vat then its £311 + £62, or £373.
Etailers are not allowed to list the GTX 1070 until June 10th at 2pm, so we can't confirm prices just yet, however we have been reliably informed that Founder Edition cards will be available around the £399.99 inc vat mark when they hit the stores.

Yes UK punters have to pay more than those in the US – its just the way it is, sadly.
Nvidia have announced that some partner cards will be available at $379, so we take our best educated guess that this will translate to £350 in the UK. Higher specified solutions from partners such as ASUS are likely to be priced at the same £400+ point as this Founders Edition card however. We will know for sure on June 10th at 2pm UK time.
The GTX 1080 might be the dream graphics card to own right now, but for most of us, the GTX 1070 makes a lot more sense. It is around £220 cheaper and will deliver a stellar high frame rate gaming experience at 1440p.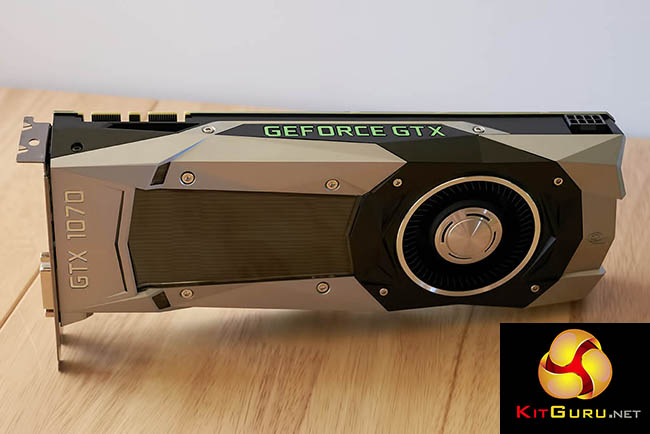 I know Nvidia are comparing the GTX 1070 to the GTX 970 in their literature and briefings, but I can't help but notice the GTX970 is quite often available at £250 – or £150 less. Thats a substantial chunk of change. As our review has highlighted however, the GTX 1070 blows the GTX 970 out of the water. The GTX 1070 is often in the same performance bracket as a reference clocked GTX980ti which are still selling for more than £500 today. If you factor in that you get similar performance to a GTX980 ti for £100-£180 less, the GTX 1070 is a tempting proposition.
Overclocking headroom is fantastic, we managed to overclock our review sample by +210 core and +600 memory. This enhanced performance levels of the graphics card further and while I don't always recommend that an enthusiast gamer spend time overclocking their new graphics card, the GTX 1070 is just screaming out for some clock boosts. In my own mind, this card is ideally suited for a gamer who wants to game at 1440p with a high refresh panel. Overclocking it to the limit will push those frame rates above 60fps and smooth out the overall experience.
For those of you adopting two GTX 1070 cards then the backplate design will be particularly appealing. A section can be removed to improve cooling efficiency when two (or more) are running together in close proximity.
Nvidia have also placed a focus on technologies to improve the VR experience. Simultaneous Multi-Projection provides performance for new display technologies. The GTX 1080 GPU can simultaneously render to unique viewports that are designed specifically for VR headsets and triple display users. Lens Matched Shading improves pixel shading performance by rendering up to 16 viewports that will better support the design of the latest VR headsets. This helps to avoid rendering pixels that would be trashed before the final imagery is sent to the VR headset.
Additionally, the new Single Pass Stereo feature uses Simultaneous Multi Projection to render the geometry required for both eyes in a VR headset – all in a single rendering pass rather than a pass for each eye. This obviously halves the geometry workload when directly compared to a more traditional VR rendering situation. This will also help support gamers with three screen configurations as Perspective Surround gets the GPU to simultaneously render projections for each of the three displays with proper perspective views. We haven't been able to test this yet, but it seems like a good move for enthusiast users who enjoy multi screen systems for gaming.
If you are in the market for a new graphics card and have a budget of £400, then right now, the GTX 1070 is the card you need to shortlist.
Discuss on our Facebook page, over HERE.
Pros:
New performance leader around £400.
power efficient.
massive overclocking headroom.
We like the new reference cooler, especially for SLI configurations.
adjustable backplate.
Cons:
fan always spins so it could be quieter at times.
Cheaper than a GTX 1080, but it is still a substantial investment.
Kitguru says: The GTX 1070 is the second Pascal card we have reviewed and considering the price point it is just as impressive as the GTX 1080. It sets a new performance standard around £400.