We will outline the performance increases that can be obtained from using the ASRock Fatal1ty X99 Professional motherboard to overclock our system. Our overclocked processor frequency was 4.4GHz and memory speed was 2666MHz.
As a performance comparison, we have included the overclocked results from four other X99 motherboards. The maximum overclocked configuration achieved with each board was a 4.4GHz processor frequency.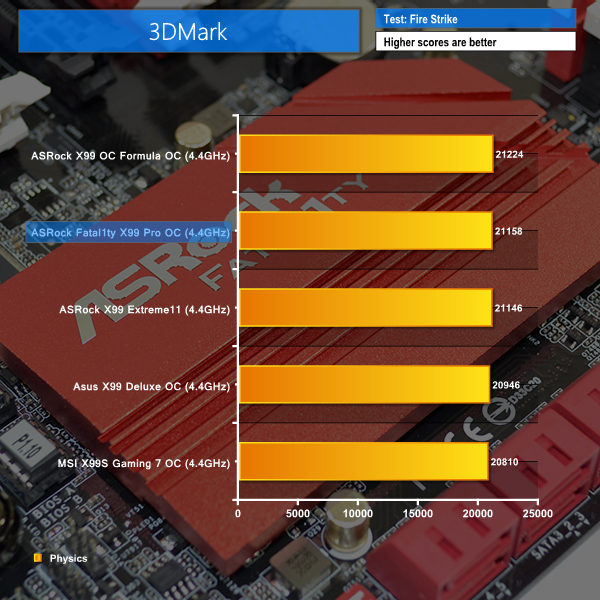 ASRock's Fatal1ty X99 Professional fairs well in 3DMark when overclocked, and the board puts in a decent Cinebench score. Those performance gains do not extend to Bioshock Infinite, however; the frame rate actually dropped by around 3-4 FPS when the system was overclocked.
It's not the first time we have seen this happen to a motherboard, so after confirmation from numerous re-tests, I began to dig into the issue and find its cause. The problem seems to derive from manually applying an all-core CPU multiplier. Even manually requesting an all-core multiplier of 35x (the standard enhanced turbo level) would cause the frame rates to drop in Bioshock Infinite. This is an odd issue and one that needs further attention.
It is worth pointing out that Bioshock Infinite was the only game affected; neither Tomb Raider nor Metro: Last Light suffered FPS drops when the system was overclocked. This potentially points a finger towards the Bioshock Infinite benchmark itself.