The ASRock Fatal1ty X99 Professional is a feature-rich motherboard that warrants its place at the top of the tree for ASRock's gaming series motherboards.
Overall performance of the motherboard is what we would expect from an X99 part. We did not spot any noteworthy deficiencies relating to CPU, memory, or system performance. And the numbers posed by storage interfaces were positive, except for the lack of a UASP-activating tool for Windows 7 users.

Overclocking capabilities of the motherboard are positive, thanks in large to the well-organised UEFI implementation and the strong power delivery system. If you simply do not care for manual frequency adjustments, the built-in overclocking profiles are sensibly constructed.
One of the primary negatives relating to overclocking is the board's insistence on setting higher voltage levels. While general overshoots on certain voltage rails are impossible to remove, ASRock has manually tuned the motherboard to increase DRAM voltage by 50mV for 1.2V kits and 10mV for our 1.35V G.Skill set. This should not be the case – 1.20V should mean 1.20V.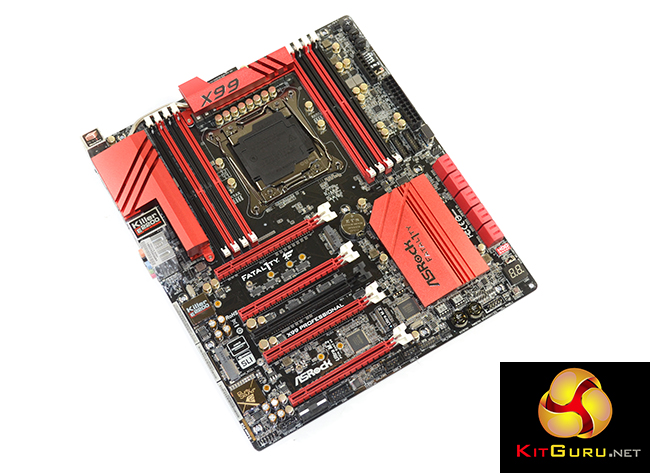 The set of gaming and general usage features provided by ASRock is excellent. The enhanced – Purity Sound 2 – audio solution delivered very good performance, there is plenty of graphics card capacity, and users can operate two high-speed M.2 SSDs alongside 3-way and 4-way SLI. NICs from Killer and Intel is a further positive that caters to a wider audience than if one or the other was selected.
Overall motherboard layout is superb. Spacing for dual graphics cards is well-thought-out and the lack of any major interference points truly is a breath of fresh air on such a component-rich motherboard. There's no need to worry about a graphics card blocking USB 3.0 headers, or limited card spacing causing cooling worries. And that's exactly how it should be with a high-end motherboard.
There were a few minor issues discovered throughout testing. The biggest of these is a cause for concern – incompatibility with a G.Skill Ripjaws4 2666MHz memory kit's XMP settings. While memory support can be enhanced through BIOS updates, it is slightly concerning that incompatibilities are still occurring more than six months after X99's launch.
Availability of the ASRock Fatal1ty X99 Professional motherboard is poor through the major retailers such as OverclockersUK. By looking at US pricing, availability through smaller UK retailers, and the ASRock X99 OC Formula motherboard's cost, around £250-290 seems to be the best interpretation of retail price availability for the Fatal1ty X99 Professional.
That will put ASRock's Fatal1ty series flagship in tough competition with Gigabyte's X99-Gaming G1 WIFI, and extended battle with the MSI's X99S Gaming 7 or Gaming 9 ACK and Asus' X99-Pro or X99-Deluxe. While there is no clear-cut winner in that market segment, ASRock's Fatal1ty X99 Professional shows enough performance and a sought-after set of features that make it a warrantable purchase.
Discuss on our Facebook page, over HERE.
Pros:
Excellent support for multiple graphics cards alongside PCIe M.2 SSDs.
Attractive set of features – enhanced audio, Killer and Intel NICs, HDD Saver.
32Gbps Ultra M.2 and 20Gbps M.2 connectors, both compatible with a range of drive lengths.
Strong power delivery system and positive overclocking results.
Smart connector layout with no major interference worries.
Half Mini-PCIe connector is useful for WiFi without sacrificing full-length PCIe slots.
Easy-to-use UEFI and decent set of OS software.
Cons:
Still some potential compatibility issues with memory.
Applies increased voltage levels to the memory without request.
Limited availability and therefore inconsistent and high pricing.
KitGuru says: A feature-rich motherboard that is worthy of managing your high-end, enthusiast gaming system.