ASRock ships the X99 Professional in the company's typical red and black Fatal1ty packaging. The front of the box outlines some of the key features, while a more detailed look at the specifications is found on the rear.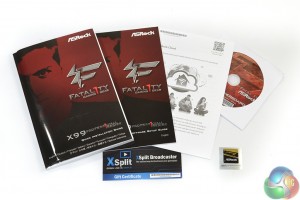 The usual affair of documentation is provided – relevant manuals and a driver CD. ASRock also provided a case sticker and a license key for a 3-month trial of XSplit Premium, worth $24.95.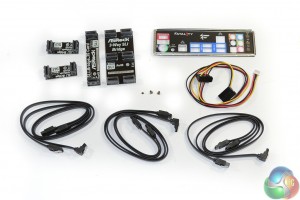 Given the board's premium pricing, it comes as no surprise to see a healthy accessory bundle. The supplied cables are formed of six for SATA data and one for ASRock's HDD Saver power connector. I would like to see the HDD Saver cable coloured purely black at some point in the near future – multi-coloured cables are ugly.
Three screws are used for the pair of M.2 connectors and the mini-PCIe slot. The rear IO shield is colour coded and features pre-positioned holes for three antennas should users decide to install an internal WiFi card. ASRock supplies four rigid SLI bridges which aren't quite pure black – they're a dark brown.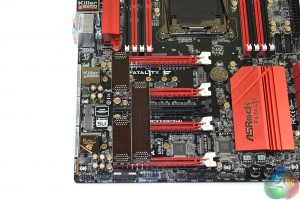 While there is a dedicated bridge for 3-card SLI, a 4-card setup relies on three separate connectors. This is bit of a 'cheap-out' measure that I would prefer to see stopped.
When paying this much for a motherboard which is 4-way SLI capable, a dedicated 4-way bridge should be included. It's a 'cleaner' solution.