Automatic CPU Overclocking:
ASRock equips the Z97X Killer with a number of pre-configured CPU speed boost profiles. We aimed for stability with the 4.6GHz profile (1.32V VCore), but we were soon met by a BSOD after launching Windows.

Knowing our chip's realistic limit of around 4.5GHz, ASRock's 4.4GHz profile gave us perfect stability with controllable temperature levels.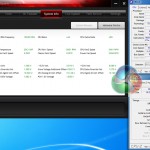 Given that the profiles do little more than adjust the CPU-related multipliers and increase voltages, our 2400MHz memory continued to operate at its XMP frequency.
The 4.4GHz profile uses a CPU VCore of 1.30V and seems to be optimised well. Only a 20mV increase over MCT VCore levels is required for an extra 500MHz, putting into perspective how needlessly high ASRock's MCT VCore levels are.
Additional overclocking and system tuning functions can be accessed via ASRock's F-Stream software, in an OS environment.
Manual CPU Overclocking:
To test the ASRock Z97X Killer motherboard's CPU overclocking potential, we first increased the CPU VCore to 1.325V, Cache voltage to 1.275V, and CPU Input Voltage to 1.900V. The CPU Cache ratio was set to 39x and LLC was set to 'Enabled'.
Overclocking with ASRock's Z97X Killer is more complicated than it needs to be. Upon applying the 'override' voltage mode for the VCore, the board still provides a +80mV offset. This translates into a worrying 1.405V in Windows with our safe 1.325V setting.
A way around the issue is to manually set the offset to +0.001V. Even ASRock's engineers and system builders seem to be using this workaround, as proven by its use in the pre-tuned overclocking profiles.
We have reported this problem a number of times with ASRock's Z87 motherboards so the company clearly isn't listening to feedback. Selecting an 'override' voltage should give an override voltage; all other parameters and offsets should be disabled to provide the user-defined voltage level, otherwise there is absolutely no point in providing the 'override' setting.
Quite simply, the voltage tweaking system is not good enough. Competing vendors have no problem disabling their offset configurations when a user opts for an override voltage. ASRock needs to do the same.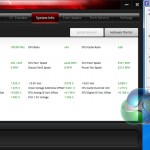 Our advice to users of this board would be to carefully monitor the voltage level being fed to your CPU. With a +0.08V offset being automatically applied, overclocking voltages can quickly reach worrying levels.
Despite the difficulties, we were able to reach the 4.5GHz frequency limit of our chip without much additional effort.