Haswell is just the latest Intel CPU architecture to see many of the critical system operations handled by the processor. As such, benchmarking a motherboard becomes more of a test to certify that the part operates correctly and meets the anticipated performance levels.
We will be outlining the ASRock Z97X Killer motherboard's performance with the Core i7 4770K CPU at its stock frequency (3.9GHz due to forced turbo). Overclocked performance will be outlined later in the review.

Performance of the ASRock Z97X Killer motherboard will be compared to that of three other Z97 parts. All motherboards are partnered with identical hardware and software, so the results are directly comparable.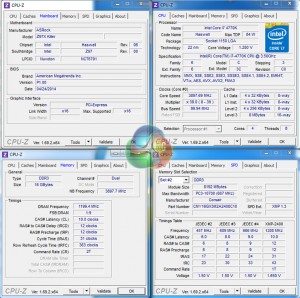 By default, the ASRock Z97X Killer motherboard does not apply multi-core turbo (MCT) when XMP is enabled, which is very unusual for a mainstream Z97 motherboard. We manually applied MCT in order to directly compare the performance differences between each tested motherboard. This will be displayed as the 'stock' setting (and outlined in the charts' brackets after the non-turbo stock speed is displayed). Automatic application of MCT can easily be added into a BIOS update.
Selecting the Performance mode in ASRock's F-Tuning software allows an accurate interpretation of the motherboard's stock performance to be provided. We tested the Standard mode, but its performance figures were slightly lower due to fluctuations between 3.9GHz and lower multiplier levels.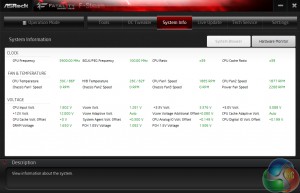 ASRock continues to use a core voltage of up to 1.28V for its MCT setting. We outlined this with the company's Z87 motherboards, but it continues to be used. 1.28V is around 40-80mV higher than the levels competing vendors use and is nothing more than wasted heat and power.
To be frank, configuring ASRock's Z97X Killer for stock testing was a pain. Most motherboards are a simple case of plug and play, but for ASRock's board we needed to manually select all-core turbo and Performance mode in the OS software just to keep results accurate and comparable. Many users may just accept the dip in performance, making it disappointing that ASRock does not optimise the stock performance out-of-the-box.
Note: Unfortunately we could not test the Z97X Killer motherboard's M.2 performance because our direct-from-factory sample was provided without the necessary mounting hardware (screw and motherboard mount).
Z97 Motherboard Test System:
Compared Z97 Motherboards:
Asus Sabertooth Z97 Mark 1.
Gigabyte Z97X-UD5H-BK Black Edition.
MSI Z97 Gaming 5.
Software:
ASRock Z97X Killer BIOS v1.00 (latest).
Catalyst 14.4 VGA drivers.
Intel 10.0 chipset drivers.
Tests:

3DMark 1.1.0 – Fire Strike (System)
SiSoft Sandra 2014 SP2 – Processor arithmetic, memory bandwidth (System)
Cinebench R15 – All-core CPU benchmark (CPU)
WinRAR 5.01 – Built-in benchmark (CPU)
HandBrake 0.9.9 – Convert 4.36GB 720P MKV to MP4 (CPU)
ATTO – SATA 6Gbps, USB 3.0 (Motherboard)
RightMark Audio Analyzer – General audio performance test (Motherboard)
Bioshock Infinite – 1920 x 1080, ultra quality (Gaming)
Metro: Last Light – 1920 x 1080, high quality (Gaming)
Tomb Raider – 1920 x 1080, ultimate quality (Gaming)