SATA
For SATA 6Gb/s testing we use a Kingston HyperX 3K (SandForce SF-2281) SSD.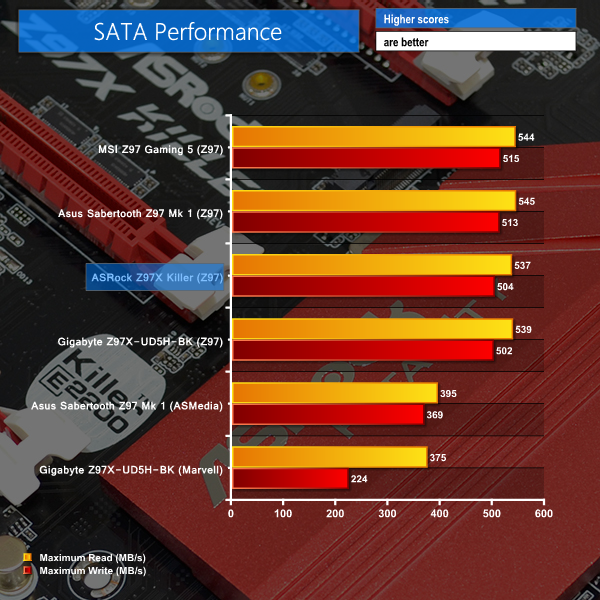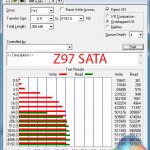 Given the use of chipset-fed ports, SATA 6Gbps performance is as high as expected from ASRock's Z97X Killer.
USB 3.0
We tested USB 3.0 performance using the Kingston HyperX 3K SSD connected to a SATA 6Gb/s to USB 3.0 adapter powered by an ASMedia ASM1053 controller.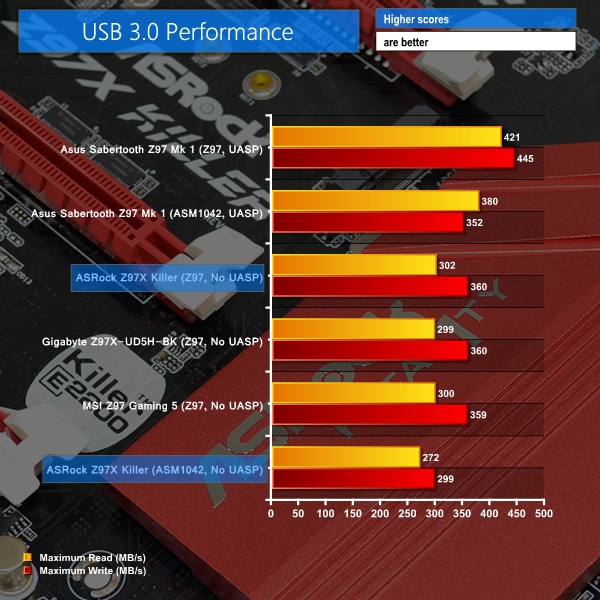 Despite offering it for previous generation motherboards, ASRock does not include its XFast USB software (built by FNet) with the Z97X Killer. This is likely due to built-in UASP support offered by Windows 8/8.1. It is a move that forces Windows 7 users to settle for lower USB 3.0 transfer rates than a UASP-activating tool (such as that offered by Asus) would provide.
Nevertheless, ASRock's Z97-fed USB 3.0 ports deliver strong speeds that will provide limitless performance for an old SATA 3Gbps external SSD, for example. Transfer rates of the USB 3.0 ports fed by the ASM1042AE host controller are not as fast as the native alternatives.
Audio

We use RightMark Audio Analyzer (RMMA) to analyse the performance of the motherboard's onboard audio solution. A sampling mode of 24-bit, 192 kHz was tested.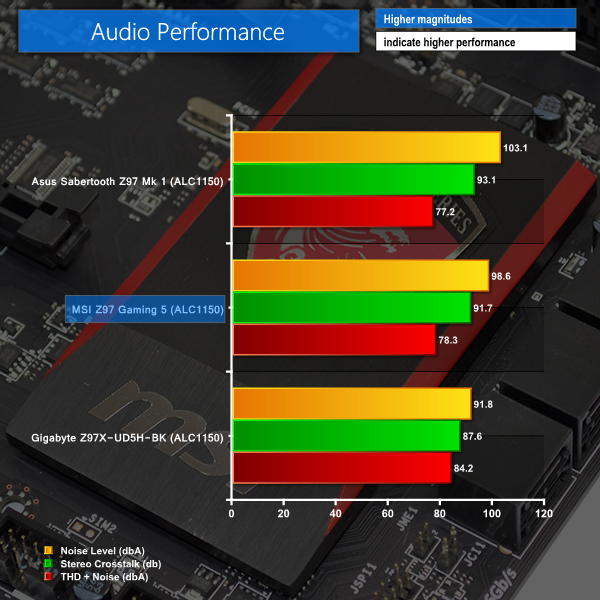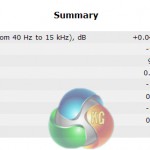 ASRock's Purity Sound 2 audio system is powered by a Realtek ALC1150 codec, hidden beneath an EMI shield. Nichicon fine gold capacitors are used to assists signals that are sent along a discrete PCB pathway. A pair of Texas Instruments NE5532 amplifiers also features.
The Purity Sound 2 implementation delivers competitive audio performance, being rated as Very Good by RMAA. Overall audio performance numbers aren't quite as strong as those shown by competing Z97 models.