We are disappointed to report that our Leetgion Hellion mouse would not work to its usual standard in the ASRock Z97X Killer motherboard's UEFI BIOS. On successive boots, the interface could shift between detecting mouse movement and ignoring it.
We discovered that installing a USB flash drive would lead to the mouse functioning correctly. When the movement worked, it worked uninterrupted. But upon entering the BIOS, it could take a while before the mouse started to function correctly. The problem could be related to an early revision of the interface.
ASRock is using a high resolution, 1920×1080, approach for its updated UEFI BIOS. Many of the layout properties are similar to the company's Z87 implementation, although there are a few welcomed adjustments.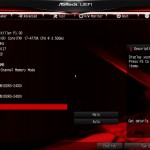 ASRock has added a favourites section to the main page, allowing users to quickly jump to commonly-accessed settings.
A UEFI Guide tool is also provided, allowing users to be guided through the interface to gain knowledge about it.
ASRock provides users with a good amount of frequency tweaking options. Automatic CPU overclocking profiles allow frequencies of up to 4.8GHz to be selected, although the feasibility of such settings will be tied to a CPU's potential.
An extensive range of voltage and power settings can be adjusted in the Fatal1ty motherboard's UEFI BIOS.
Offset voltages can be set, or users can opt for manually-configured static levels.
ASRock allows users to select memory dividers for DRAM frequencies of up to 4GHz. That kind of multiplier is going to be impossible to reach for Haswell chips.
Timings can be adjusted via their own section and a tweaking tool.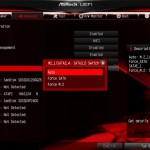 Operation of the M.2 connector can be manually set via the UEFI, if such an approach is preferred.
ASRock includes a number of convenient tools in its UEFI. Users can rapidly apply a number of system configurations and drivers can also be downloaded via the interface.
Only three settings profiles can be saved to the Z97X Killer's UEFI. To many users who overclock their system, three will be an insufficient number of profiles that will cause inconvenience when testing out different system configurations. But once stable clocks are achieved, three profiles should suffice for many gaming users.
While ASRock does allow the named profiles to be copied to and from a USB flash drive, increasing the capacity to five would have been a welcomed improvement.
A positive for ASRock is the interface's ability to scan through a USB drive to search for a BIOS file. Users simply select the Simple Flash tool and the board scans until a BIOS file is found and can be used to update the revision.
System Browser is a convenient tool that displays which components are connected to the motherboard. The tool is particularly useful for troubleshooting purposes; if, for example, a memory stick is faulty, it will not show up in the System Browser window.
ASRock includes a balanced set of voltage, temperature, and fan speed readings on its HWMonitor page. Operation of the CPU and chassis fans can be set to pre-defined configurations via the BIOS, or a user can create their own profile.
The method for creating a fan speed profile is far less intuitive than the approach adopted by MSI; ASRock forces users to select from a list of numbers whereas MSI allows points to be toggled on a graph which shows the fan speed curve.
Overall, ASRock UEFI's implementation is a positive one. While it's not at the same level as Asus' implementation, it does have its merits in comparison to competing interfaces. The System Browser tool is useful and a high resolution is most certainly welcomed. The interface is also relatively easy to navigate and does not swamp users with information.
There are a few layout adjustments that we would welcomed. Placing the saving points for settings profiles on the OC Tweaker page would make sense. We weren't admirers of the basic fan profile creation method, either. Mouse support seems to be hit-or-miss, but that could be related to an early BIOS revision.
But as far as UEFI implementations go, ASRock's updated Z97 offering is one of the better options.
Software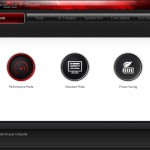 ASRock's F-Stream software gives users access to their system's operating state and a number of convenient tools. Performance, Standard, or Power Saving modes can be applied via F-Stream. We noticed that the Standard mode would result in slightly decreased benchmark results compared to the Performance option.
Overclocking settings and parameters can be tweaked via the software, in an OS environment.
Readings relating to system parameters such as voltages, frequencies, and fan speeds are outlined in the System Info page. ASRock also puts its convenient Board Explorer tool in the F-Stream software package.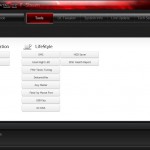 ASRock's main motherboard tools can be accessed via F-Stream. We did notice the omission of XFast USB which seems to have been terminated by ASRock. This is a disappointment as we found the speed-boosting software to work excellently and provide noticeable results.
ASRock includes a wide array of tools that have a range of duties, from tweaking fan speeds to reading storage drive health to setting up a RAM drive. We are glad to see that the OS-based method of tweaking fan speeds is far more user friendly than the UEFI-based alternative.
Killer Network manager is one of the key reasons that Killer's NICs are popular choices for gaming motherboards. The software allows users to control their system's network operations so that gaming, or other tasks, can be given priority. This can help to ensure that a sufficient level of network bandwidth is delivered where it is required.
ASRock also includes a 3-month premium license to XSplit services which, while only half as long as MSI's offering, is still welcomed and carries a value of $25. A 1-year subscription to Orbweb.ME (worth $50) is also provided and will be welcomed by users who opt for cloud storage.