Automatic CPU Overclocking:
Despite ASRock featuring two built-in overclocking profiles (a 3.8GHz CPU-only boost in addition to a 4GHz CPU and XMP setting) we could not get either of them to work. We gave multiple attempts and made minor tweaks to the system, but neither would allow the system to POST.
While it is disappointing to see some of the board's functionality not performing, the enthusiast nature of a HEDT platform user lets ASRock off the hook. The vast majority of users purchasing an X99 motherboard are going to know how to overclock their system to 4GHz with relative ease.

Manual CPU Overclocking:
ASRock gives users all of the overclocking flexibility with the X99E-ITX/ac that one would expect from any other one of the vendor's X99 boards. Our typical overclocking procedure was, however, slightly different to usual, presumably due to the way in which the X Series OC Socket handles CPU cache frequency and voltage.
We initially opted for our standard voltage settings, which include a boost to the CPU cache voltage and locking it at a 30x multiplier. ASRock's board did not like these settings and refused to POST. So instead we opted for an even more basic overclocking procedure which saw us adjusting only the CPU VCore and Input voltages and the CPU multiplier.
We increased the CPU VCore to 1.30V, and the CPU Input Voltage to 2.00V. Load-line calibration was set at level 1 to ensure consistent voltage, and the memory was manually set to 2400MHz.
Using the basic voltage adjustments, we had no problem taking our 5960X processor to its 4.4GHz limit with the ASRock X99E-ITX/ac motherboard. This is the same level that all other X99 motherboards that we have tested have peaked at.
We pushed for a greater CPU clock speed however the system would not hold stability above 4.4GHz. This is to be expected as 4.4GHz seems to be our chip's clear operating peak with 1.3V being fed through it.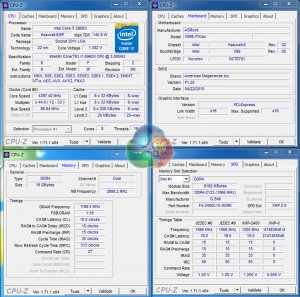 ASRock's motherboard fed our CPU with 1.3V under load, implying that the PWM controller's precision is good. The system was perfectly stable and CPU core temperatures stayed below 80°C with our H100i AIO liquid cooler running at full fan speed.
A recording of the rear-side PCB area beneath the VRM components showed a maximum temperature of 68°C. The recording was taken after a short period of heavy loading and with our Antec Spot Cool fan aimed at the MOSFET heatsink. PCB temperatures in the high-60s prove that VRM cooling should be given serious consideration.
As for the benefits of ASRock's X Series OC Socket and its extra pins, we gave a few quick attempts to boost CPU Cache frequency past its 3GHz stock rating but did not get any luck. We will be taking a more in-depth look at ASRock's X Series OC Socket implementation in an upcoming article.
The 4.4GHz validation can be viewed here.
Memory Frequency Performance:

Support for high-speed memory kits has been a particularly troubling topic since the X99 launch. We test the motherboard's ability to load the 3000MHz XMP configuration on our G.Skill Ripjaws4 DDR4 memory.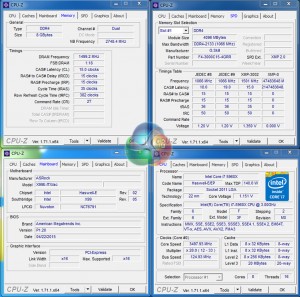 G.Skill's 3GHz Ripjaws4 DIMMs worked without hassle using the X99E-ITX/ac motherboard's XMP setting. The base clock was switched to 125MHz and CPU frequency was locked at 3.5GHz; however the CPU cache ran between 2750MHz and 2875MHz rather than the stock level of 3000MHz.
The validation can be viewed here.