M.2 connector
We use Plextor's fast M6e 256GB M.2 SSD to test the speed of a motherboard's M.2 connector. We reviewed the 512GB Plextor M6e (and its PCIe x2 adapter card) HERE. Unfortunately we do not have access to a PCIe 3.0-based SSD to fully test the M.2 connector's performance limits.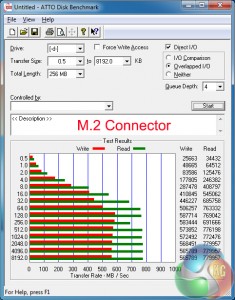 The 32Gbps-capable Ultra M.2 connector has no problem providing ample bandwidth for our PCIe 2.0 x2 Plextor M6e SSD.
SATA
For SATA 6Gb/s testing we use a Kingston HyperX 3K (SandForce SF-2281) SSD.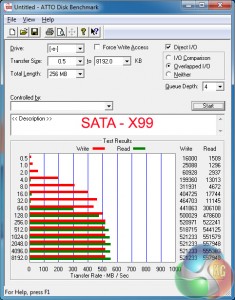 SATA 6Gbps performance is as one would expect from ports fed by the X99 chipset.
USB 3.0
We tested USB 3.0 performance using the Kingston HyperX 3K SSD connected to a SATA 6Gb/s to USB 3.0 adapter powered by an ASMedia ASM1053 controller.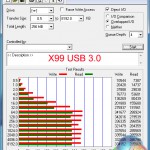 ASRock's USB 3.0 performance from the X99 chipset's ports is what we would expect.
Without a UASP-activating tool for Windows 7 (such as USB 3.0 Boost that Asus uses), the transfer rates stay below the 350MBps mark. Windows 8.1 users should be able to enjoy transfer rates of around 400+MBps thanks to the operating system's built-in UASP driver.
We will be taking a closer look at the performance of ASRock's ASM1142-fed USB 3.1 ports in an upcoming article.
Audio

We use RightMark Audio Analyzer (RMAA) to analyse the performance of the motherboard's on-board audio solution. A sampling mode of 24-bit, 192 kHz was tested.
Audio hardware consists of Realtek's popular ALC 1150 codec in an unshielded mount, a Texas Instruments NE5532 operational amplifier, and four dedicated Nichicon Fine Gold audio capacitors.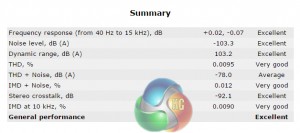 RMAA rates the general performance of the ASRock X99E-ITX/ac motherboard's audio system as "Excellent". Particular strengths are the frequency response performance and noise level.
ASRock's decision to use an unshielded implementation of the Realtek ALC 1150 audio codec seems to have paid off. Strong performance from the on-board solution is critical, given the mini-ITX motherboard's limited expansion options, and ASRock has delivered just that.
Wireless
We use Totusoft's LAN Speed Test software to measure the real-world throughput offered by the ASRock X99E-ITX/ac motherboard's WiFi solution.
The test motherboard was located in close proximity to our Linksys EA6900 AC1900 802.11ac wireless router. We tested using the 5GHz frequency band and kept other network resources at a low usage level to ensure the transfer rates were not capped.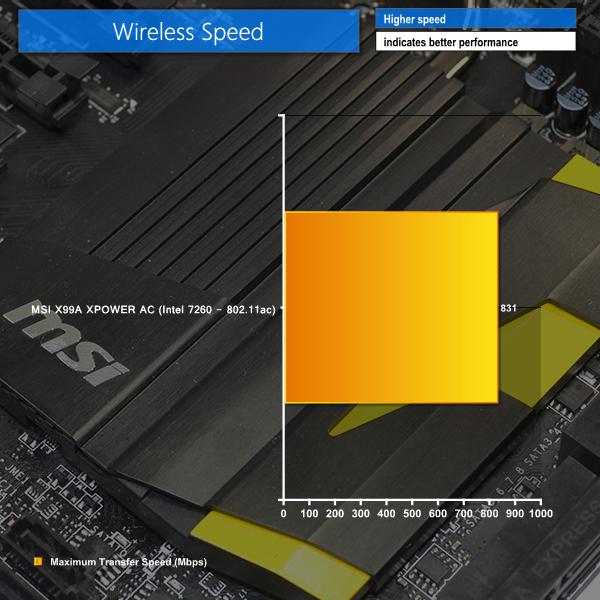 A consistent wireless connectivity speed in the region of 400Mbps over WiFi is solid performance. These levels translate into transfer rates of almost 50MBps, which is a decent speed if the network is able to sustain it.
A better wireless router or more preferential positioning of network equipment may be able to unlock enhanced transfer rates that the 867MBps-rated adapter should be capable of.