The ASRock X99E-ITX/ac mini-ITX motherboard serves as proof that Intel's HEDT platform does not necessitate the use of physically larger hardware. ASRock has overcome a major engineering hurdle in tremendous style, by offering the first mITX board to be equipped with Intel's premier consumer CPU chipset, and in doing so has constrained performance losses to an absolute minimum.
In general, performance numbers for ASRock's X99E-ITX/ac are in-line with what we would expect from any other X99 motherboard. The only cracks that start appearing are when workloads that scale with memory bandwidth frown upon the mITX board's dual-channel limitation. In our testing these workloads were few and far between, and did not represent major performance dividers.
Perhaps the most impressive individual aspect of ASRock's mini-ITX recipe is the retention of stellar overclocking performance. You'd be forgiven for thinking that the mITX form factor constricts the motherboard's overclocking capacity when running such power-hungry CPUs, however the reality is that it doesn't. We were able to push our 5960X as far in the X99E-ITX/ac as we could in any other motherboard, while operating safe 24/7 voltages.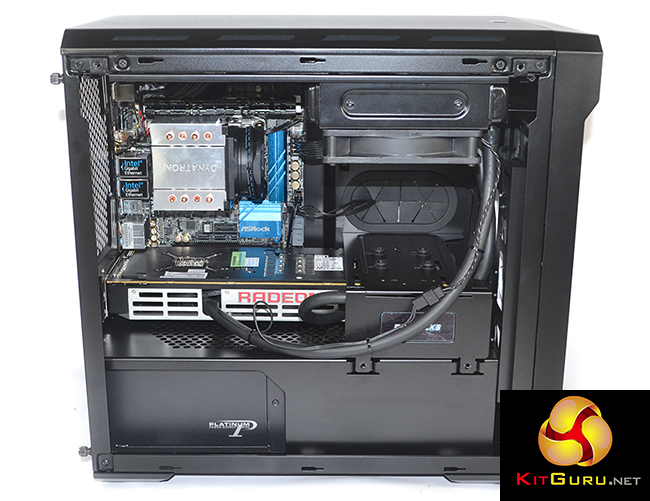 ASRock equips the X99E-ITX/ac with a wide array of productivity and general usage features. Six SATA ports, a 32Gbps Ultra M.2 slot, two USB 3.1 connectors, plenty of USB 3.0, eSATA, enhanced audio, dual NICs with teaming, and 802.11ac WiFi are likely to satisfy even the most enthusiast of users. An additional Ultra M.2 connector would be welcomed, given the CPU's spare PCIe lane count, however finding space for it is an obvious challenge.
ASRock's tried-and-tested 9-series UEFI performs adequately on the X99E-ITX/ac. The overall interface is easy to use and generally functional however, there are some glitches, such as the dysfunctional overclocking pre-set profiles. FAN-Tastic Tuning is an excellent inclusion with its graphical interface that is a clear upgrade from the mundane drop-down list alternative.
As with all SFF hardware, cooling presents a major challenge for the X99E-ITX/ac. Fitting the hardware onto the 17x17cm PCB is a tough task in itself, but then adequate cooling has to be provided where it is required. ASRock includes a basic CPU cooler but I would assume that many buyers will purchase a better narrow ILM-capable offering. The included AIO liquid cooler narrow ILM-compatible mounting bracket is a fantastic addition to the bundle. ASRock would be wise to work with AIO cooler manufacturers for greater narrow ILM bracket compatibility.
I would have liked to see a greater emphasis put on the MOSFET cooling system. While we did not suffer any overheating issues throughout testing, a larger MOSFET heatsink with fins would give me extra peace of mind for a VRM which can be providing over 200W to a CPU for extended periods of time. Some form of quiet, user-controllable fan may have been a worthy upgrade. This probably seems a little harsh given that we experienced no thermal problems, but SFF environments are inherently sparse of airflow, so design of the VRM cooling is critical to component longevity.
Priced at around £240, ASRock's X99E-ITX/ac motherboard sits towards the middle of X99 motherboards' price range. Given the included CPU cooler, pricey WiFi card, and the development prowess that goes into such a board, I think that £240 is a fair asking price.
In some respects, ASRock has done the unthinkable by offering up a consumer mini-ITX motherboard based around Intel's prized HEDT platform. The company has used a design that is nothing short of genius and cherry-picked the forced comprises smartly. If you desire the best SFF system you can build or simply want unparalleled performance in a small footprint, ASRock's X99E-ITX/ac should be sat comfortably at the top of your shopping list.
Discuss on our Facebook page, over HERE.
Pros:
Support for the Haswell-E CPU range and up to 18-core Xeon processors on a mini-ITX motherboard.
Strong overclocking performance – as good as full-sized LGA 2011-3 motherboards.
Plenty of connectivity and high-speed networking options.
PCIe 3.0 x4 (32Gbps) Ultra M.2 connector.
Two USB 3.1 Type-A ports.
Strong audio performance.
Included narrow ILM bracket for (limited) AIO liquid cooler compatibility.
Cons:
More widespread support for AIO liquid coolers would be welcomed.
Memory-intensive workloads may be hampered by dual-channel memory.
KitGuru says: An engineering masterpiece that opens up an entirely new level of performance for SFF systems. Innovation at its finest – ASRock's superb X99E-ITX/ac is flying the flag for mini-ITX hardware.