We will be outlining the ASRock X99E-ITX/ac motherboard's performance with the Core i7 5960X CPU at its stock frequency (3.5GHz due to forced turbo). Overclocked performance will be outlined later in the review.
Despite the mITX build photographs, our usual X99 motherboard test system is used to keep comparisons as fair as possible. The only variation from the test configuration used for competing motherboards is the forced application of dual-channel memory, rather than quad-channel. We opted for two 8GB 2400MHz DDR4 sticks from G.Skill's Ripjaws4 memory kit that we used here.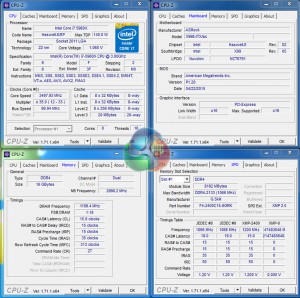 Multi-core turbo (MCT) is not applied automatically when XMP is enabled on ASRock's motherboard. This is good for users who want Intel-standard Turbo Boost profiles and bad for those who want the maximum speed without overclocking. We had to manually enable MCT, forcing our 5960X to a constant 3.5GHz operating frequency, in order to keep comparisons with other motherboards as fair as possible.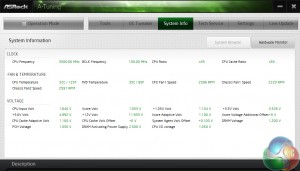 ASRock's MCT settings are well-tuned for rapidly adjusting processor and cache frequencies and voltages in order to reduce power consumption. This has the added benefit of throwing less heat into the SFF system when only moderate levels of load are applied. I continue to be impressed by ASRock's use of a ~1.07V CPU VCore with MCT enabled. This is one of the lowest MCT-enabled VCore levels used by any of the board vendors.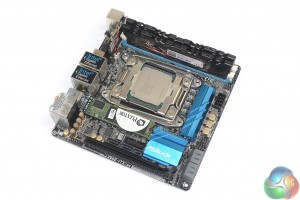 X99 Motherboard Test System:
Compared X99 Motherboards:
Software:
ASRock X99E-ITX/ac BIOS v1.20 (latest).
Catalyst 14.9 VGA drivers.
Tests:

3DMark 1.3.708 – Fire Strike (System)
SiSoft Sandra 2014 SP2 – Processor arithmetic, memory bandwidth (System)
Cinebench R15 – All-core CPU benchmark (CPU)
WinRAR 5.10 – Built-in benchmark (CPU)
HandBrake 0.9.9 – Convert 4.36GB 720P MKV to MP4 (CPU)
ATTO – SATA 6Gbps, USB 3.0, M.2 transfer rates (Motherboard)
RightMark Audio Analyzer – General audio performance test (Motherboard)
Totusoft LAN Speed Test – WiFi speed test, 100MB file transfer to wired 'server' computer (Motherboard)
Bioshock Infinite – 1920 x 1080, ultra quality (Gaming)
Metro: Last Light – 1920 x 1080, high quality (Gaming)
Tomb Raider – 1920 x 1080, ultimate quality (Gaming)