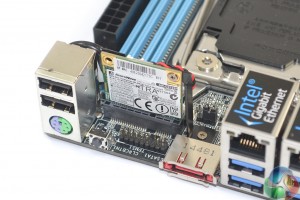 Installing the vertically-mounted WiFi card is a simple procedure. ASRock supplies a mounting bracket that can be screwed to the card and then fastened to the motherboard.
We pointed out earlier in the review that Corsair's H100i CPU cooler (and units which share a similar waterblock design) function with the narrow ILM bracket that ASRock provides. Installation is not completely straightforward, though.
Tubing connecting to the pump blocked access to the lower right hold-down screw, so we had to make-do without it. There was also noticeable movement from the waterblock, which resulted in loss of contact with the CPU heatspreader. As such, I decided to improvise some spacers in order to force the waterblock into contact with the CPU.
Whilst I would not recommend using folded pieces of paper as cooling spacers for 24/7 usage, the improvisation did not cause any issues throughout our testing. CPU temperatures remaining below 80°C even under a 1.3V, 4.4GHz overclocked load on our 5960X chip.
The VRM components get particularity hot when an AIO liquid cooler is being used due to the distinct lack of airflow over their miniature heatsink. I recorded temperatures as high as 68°C for the rear-PCB section beneath the chokes and MOSFET locations. We pointed an Antec Spot Cool fan at the MOSFET heatsink to provide extra airflow, and would highly recommend that considerations are made for cooling the VRM when an AIO cooler is used.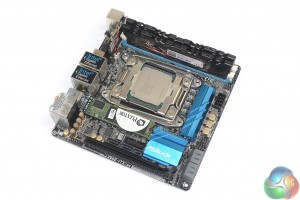 There's a unique sense of satisfaction to be had when such a great deal of computing power is crammed into a 289cm2 PCB area.
Some of the fastest consumer hardware on the market, such as Samsung's SM951 M.2 SSD and Intel's Core i7 5960X, can be installed on the ASRock X99E-ITX/ac motherboard with ease.
We took the opportunity to build a powerful mini-ITX system based around ASRock's X99E-ITX/ac motherboard.
While Phanteks' Enthoo Evolv is not the smallest of mITX cases, it does allow for installation and comfortable cooling of market-leading hardware, such as AMD's R9 295×2 and the Core i7 5960X.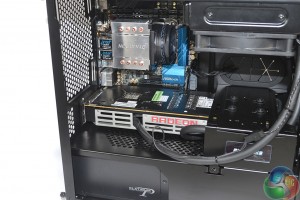 The small Dynatron R24 looks completely out of place next to any sort of sizeable gaming graphics card.
Users serious about building a powerful gaming, content creation, or multi-purpose mITX system with the X99E-ITX/ac would be wise to look into acquiring a higher-performance, quieter CPU cooling solution.