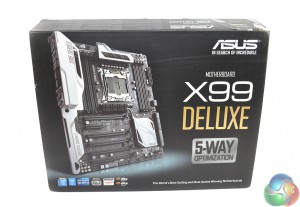 Asus ships the X99 Deluxe in the company's typical style of packaging. An image of the board, its name, and the outline of support for Asus' 5-way optimization engulf the front of the packaging.

Moving round to the backside reveals an in-depth look at many of the X99 Deluxe's key features. OC Socket steals much of the limelight, and rightly so if Asus' claims hold true.
Lifting a flap on the box's front side reveals further information about the 5-way optimization Asus uses, and it also gives potential customers a glimpse of the motherboard through a plastic window.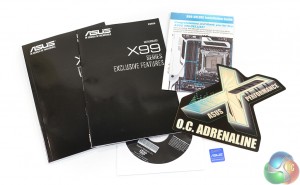 The usual set of documentation is supplied but Asus also includes a large (possibly A3-sized) fold-out installation guide and an additional case sticker.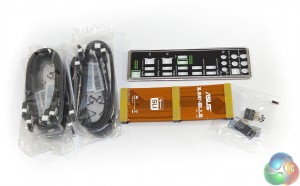 Eight SATA cables, the rear IO shield, Asus' handy Q-connectors, and a (very ugly) 2-way/3-way SLI bridge form the standard bundle. I'm a little disappointed that Asus chose to include an ugly brown SLI bridge rather than an attractive black alternative. Users who value their system's appearance will tear their hair out at the visuals of the ugly bridge.
One notable exclusion is a dedicated 2-way SLI bridge. Asus tells us it was probably left out to minimise added costs. Bypassing the bulky 3-way bridge is as easy as jumping on eBay and purchasing a dedicated 2-way ribbon, although I don't feel that should be a requirement after spending almost £300 on a motherboard.
Moving on to the specialty items, Asus includes a variety of unique accessories. On the cooling front, Asus supplies a thermistor cable and fan extension card. The thermistor cable can be deployed in an area of interest to record temperatures, while the Nuvoton NCT7802Y-controlled, powered extension card can manage up to three 4-pin fans from a single PWM input.
Linking the extension card to a motherboard-mounted fan header allows three fans to simultaneously operate from the single PWM channel. Alternatively, each of the three output fans can be controlled by linking the card to the motherboard-mounted fan control header. Power is provided by a 4-pin molex connection. Screws permit for the extension card to be mounted in a 5.25″ drive bay, although some velcro or a zip-tie should allow it to sit anywhere in a chassis.
Storage accessories come in the form of a mounting bracket to hold up to 80mm-long M.2 devices in the vertically-orientated 32Gbps M.2 x4 slot. Alternatively, Asus includes a PCIe x4 adapter card to hold M.2 devices up to 110mm-long. It doesn't matter whether you opt for the onboard M.2 connection or that provided by the adapter card because the PCIe Gen 3 lanes will always be taken from the CPU. Using the latter differs by its potential to obstruct multi-GPU configurations.
Completing the specialty accessories is a three-stream, magnetic aerial that links to the board's 802.11ac wireless adapter to provide speeds of up to 1300Mbps. The magnetic and rotatable aerial design makes it ideal for mounting on the back of a steel chassis.