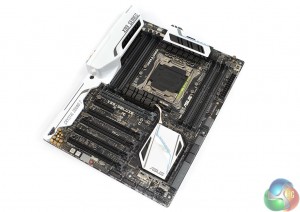 The Asus X99 Deluxe motherboard's most striking design feature is glaringly evident; Asus takes a bold risk and outfits the X99 Deluxe with a black and white colour scheme. I must admit that I am typically a fan of black and white, although I also know how easily it can be ruined.

Thankfully, Asus has used an eye-catching bright shade of white based on a large plastic covering and the pair of heatsinks to create a unique style. For as many years as I can remember, this is the first motherboard to use such a high quantity of white, and it does so to great effect.
Asus colours the rest of the PCB in a dark of black – proper black, not the ugly shade of washed out brown.
Sat between two pairs of 4-DIMM banks is the sizable LGA 2011-v3 socket. Despite the reference socket design featuring the same number of pins as previous parts, Ivy Bridge-E and Sandy Bridge-E LGA 2011 CPUs are not compatible with X99 motherboards and their new socket due to the use of DDR4 memory. Intel told us that they chose to avoid the possible confusion of a user installing DDR3 memory and a previous-gen processor in a DDR4 motherboard.
Proprietary to Asus is the company's patent-pending OC Socket. Extra pins are leveraged in the CPU socket to deliver additional voltage and aid overclocking performance. We will take a look at some of the potential benefits later in this review.
Up to 64GB of DDR4 memory can be installed in the eight DIMM slots. Asus quotes support for frequencies up to 3000MHz, although we have seen faster – up to 3333MHz – kits validated on some of the company's other boards.
Asus uses eight power phases to feed the CPU and a further four to provide for the eight DIMM slots. The CPU power system is controlled by a Digi+ 'EPU' ASP1257 digital controller, while a Digi+ ASP1250 chip manages the DRAM power. International Rectifiers PowIRstage IR3553M MOSFETs drive up to 40A of current through each DRAM power phase with a peak efficiency (quoted by International Rectifiers) of 93.2%. The CPU leverages International Rectifiers IR3550M packages which offer a higher current capacity of 60A.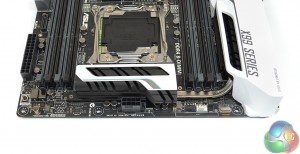 Two 4-pin fan headers, both of which are allocated to the CPU control channel, as well as the 8-pin power connector are found along the motherboard's upper edge.
Sat next to Asus' MemOK button, the 24-pin power connector is found further up the motherboard's top-right edge than usual, although this is unlikely to cause cable management issues.
The innovative, vertically-orientated M.2 connection utilises four PCIe 3.0 lanes to provide a 32Gbps connection speed. Combined with the supplied holding bracket, 42mm-, 60mm-, and 80mm-long drives can be installed. A vertical mount allows Asus to save on PCB space while still keeping the M.2 connection easily accessible.
Moving further down the motherboard we see a total of twelve SATA 6Gbps ports, four of which double up as a pair of 10Gbps SATA Express connections. The lower SATA Express connection (and its built-in SATA 6Gbps ports) operates from ASMedia's ASM106SE add-on chipset, while all of the other SATA/SATA Express connections are provided natively by X99.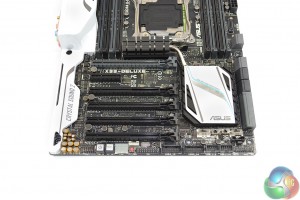 Don't be fooled by the physical provision of five full-length PCIe slots; Asus limits the simultaneous operation to three connections. With a 40-lane CPU, that's real-world capacity for three-way SLI/CrossFire using dual-slot graphics cards with a x16/x16/x8 + x0 M.2 or x16/x8/x8 + x4 M.2 configuration. The use of a 28-lane CPU would drop all PCIe links down to eight lanes and keep bandwidth for the x4 M.2 connector.
Two-way graphics configurations make use of the first and third full-length PCIe slots for a 40-lane CPU, or the first and fourth slots for a 28-lane chip. This configuration provides the setup with at least one cooling gap between partnered dual-width boards.
A PCIe 2.0 x4 slot is also present and runs from the X99 chipset's lanes. Its function is to serve as a means of connecting lower bandwidth devices that make use of the older PCIe interface. ASMedia's ASM1187e controller is used to generate seven PCIe 2.0 x1 lanes from one single-lane input. Many of these lanes are fed to add-on storage chipsets from ASMedia.
Along the board's bottom edge are the usual front panel and audio connections, as well as a pair of internal USB 3.0 headers and a TPM link. Asus equips the X99 Deluxe with onboard power, reset, and clear CMOS buttons, as well as a two-digit LED display. Switches controlling the SLI/CrossFire, XMP, and TPU modes are found above the pair of USB 2.0 headers.
We would have liked (at least) one of the USB 3.0 headers to be sat up near the 24-pin connector for the sake of convenience. And it's also clear that 3-card graphics configurations are highly likely to block the onboard power buttons, both USB 3.0 headers, and many of the toggle switches. By that logic, Asus has taken its excellent layout and pretty much thrown it out of the window at the last hurdle.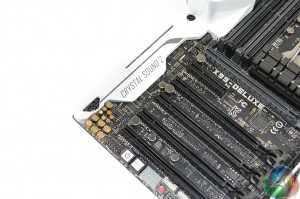 Asus uses its Crystal Sound 2 audio system on the X99 Deluxe. The solution is based around the Realtek ALC1150 codec and features Nichicon audio capacitors and EMI reduction methods.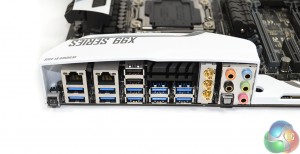 A couple of ASMedia's ASM1074 hubs and one ASM1042AE host controller allow for ten USB 3.0 ports to be placed on the rear IO panel. Two USB 2.0 ports are found, one of which is allocated BIOS Flashback duties in tandem with the specific button.
Two Gigabit Ethernet ports are provided by Intel's I218-V and I211-AT controllers. The Broadcom 802.11ac WiFi/Bluetooth 4.0 card supports wireless connectivity rates of up to 1300Mbps and the 2.4GHz and 5GHz frequency bands.
Bright white heatsinks cool the MOSFETs and X99 chipset while adding an eye-catching appearance.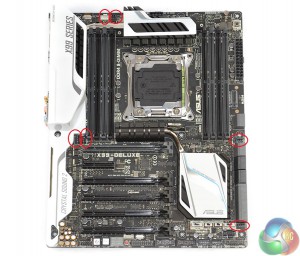 Six 4-pin fan headers are evenly distributed about the X99 Deluxe motherboard, five of which are accessible from the LGA 2011-v3 socket. We have no complaints about the headers' positioning, but if you do there's always Asus' fan extension card as a back-up.