M.2 connector
We use Plextor's fast M6e 256GB M.2 SSD to test the speed of a motherboard's M.2 connector. We reviewed the 512GB Plextor M6e (and its PCIe x2 adapter card) HERE.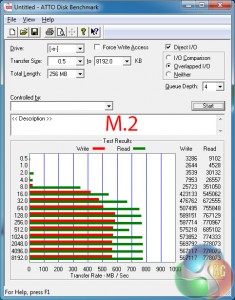 Four PCIe 3.0 lanes forming a 32Gbps-capable M.2 socket have no problem pushing the Plextor M6e SSD to its speed limit. With so much speed left to give, it is clear that Asus implemented the high-speed connection of its M.2 socket with future SSDs in mind.
It's worth pointing out that, unlike many Z97 motherboards, the X99 Deluxe does not support M.2 SATA SSDs through its connection. This is due to the connection being fed by PCIe 3.0 lanes directly from the CPU, not PCIe 2.0 lanes from the chipset which can be switched to SATA connections thanks to the flexible IO arrangement. Also worth noting is that M.2 SATA SSDs are pretty much pointless in a desktop environment where an ATX motherboard is used.
SATA
For SATA 6Gb/s testing we use a Kingston HyperX 3K (SandForce SF-2281) SSD.
SATA 6Gbps ports based off the X99 chipset are as fast as their counterparts on Z97. Users of the latest-and-greatest in SATA SSDs should have no worry about getting full speed from their device.
The ASMedia ASM106SE controller is fed by PCIe 2.0 bandwidth, hence the speed of its two SATA 6Gbps ports are confined to less than 400MBps.
USB 3.0
We tested USB 3.0 performance using the Kingston HyperX 3K SSD connected to a SATA 6Gb/s to USB 3.0 adapter powered by an ASMedia ASM1053 controller.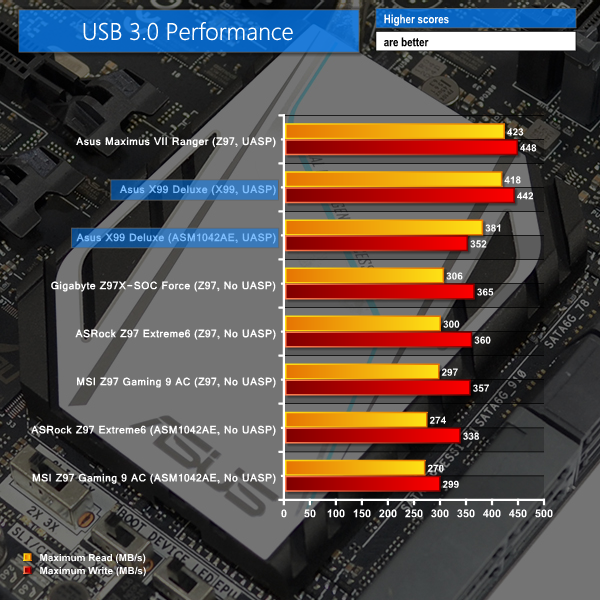 Asus' continued use of its UASP-activating USB 3.0 Boost tool helps deliver strong transfer rates of the SuperSpeed connection. ASMedia ASM1042AE-fed ports also benefit from the tool's ability to call on the advanced protocol.
To users such as myself who regularly transfer large files between systems, that USB 3.0 speed boost of up to 40% over a non-UASP solution is a big deciding factor when purchasing a motherboard.
Audio

We use RightMark Audio Analyzer (RMAA) to analyse the performance of the motherboard's onboard audio solution. A sampling mode of 24-bit, 192 kHz was tested.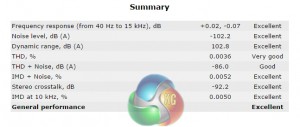 Asus uses its Crystal Sound 2 audio system on the X99 Deluxe. The solution is based around the Realtek ALC1150 codec and features Nichicon audio capacitors and EMI reduction methods.
According to RMAA, the Crystal Sound 2 solution operated by Asus' x99 Deluxe motherboard delivers Excellent general performance. Particularly impressive is the audio system's dynamic range result.