We will be outlining the Asus X99 Deluxe motherboard's performance with the Core i7 5960X CPU at its stock frequency (3.5GHz due to forced turbo). Overclocked performance will be outlined later in the review. As this is the first motherboard that we have gathered test results for, we unfortunately do not have any comparison data. As we test more boards, our comparison results will build up.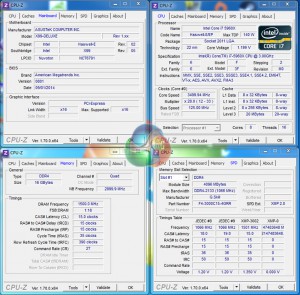 By default, the Asus X99 Deluxe motherboard applies multi-core turbo (MCT) and forces the 5960X to a constant 3.5GHz when XMP is enabled. This will be displayed as the 'stock' setting (and outlined in the charts' brackets after the non-turbo stock speed is displayed).
Asus applies a sensible (and commonly-used) CPU VCore of 1.20V for its MCT profile. The level results in perfect stability at the CPU's increased frequency and it is low enough to make cooling the chip a simple task for most decent heatsinks.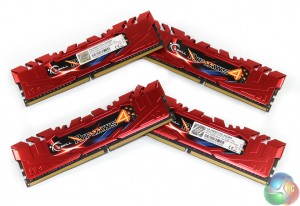 As we will point out later in the review, Asus' X99 Deluxe is the only board that we have tested behind the scenes that functions with G.Skill's 3GHz memory without hassle. Our contacts tell us that G.Skill and Asus partnered to tweak the 3000MHz operating frequency of the Ripjaws4 memory kit, leaving competing motherboard vendors playing catch-up after the X99 launch date.
X99 Motherboard Test System:
Software:
Asus X99 Deluxe BIOS v0801 (latest).
Catalyst 14.4 VGA drivers.
Tests:

3DMark 1.3.708 – Fire Strike (System)
SiSoft Sandra 2014 SP2 – Processor arithmetic, memory bandwidth (System)
Cinebench R15 – All-core CPU benchmark (CPU)
WinRAR 5.10 – Built-in benchmark (CPU)
HandBrake 0.9.9 – Convert 4.36GB 720P MKV to MP4 (CPU)
ATTO – SATA 6Gbps, USB 3.0, M.2, and SATA Express transfer rates (Motherboard)
RightMark Audio Analyzer – General audio performance test (Motherboard)
Bioshock Infinite – 1920 x 1080, ultra quality (Gaming)
Metro: Last Light – 1920 x 1080, high quality (Gaming)
Tomb Raider – 1920 x 1080, ultimate quality (Gaming)