Asus ships the Z87-Deluxe/Quad in the company's typical packaging. A black box features information and promotional material.
Opening the box's flap gives potential customers a glimpse at the motherboard, and reveals further promotional material.
Asus bundles an NFC Express box that connects to the motherboard via USB 3.0. The box can be used to wake the computer from a sleep state and to transfer content to and from digital devices that support NFC.
An additional pair of USB 3.0 ports is found on the NFC Express box. It is worth pointing out that the NFC Express box is compatible with Windows 8 specifically, hence why we were unable to test its functionality.
For a limited period of time, Asus includes a 3.5″ bay adapter that provides a further two connections, although its relevance is questionable given the proportion of cases that now ship with front panel USB 3.0 ports.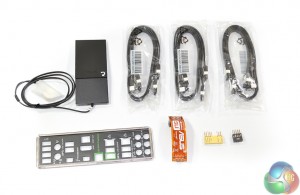 Asus's excellent Q-connectors make an appearance as part of the Z87-Deluxe/Quad motherboard's healthy bundle. The bundle includes:
6x SATA cables.
1x SLI bridge.
1x IO shield.
2x Asus Q-connectors.
1 x NFC EXPRESS box with 2 extra USB 3.0 ports + NFC EXPRESS tag (inc USB 3.0 cable).
1 x ASUS 2T2R dual band Wi-Fi moving antennas (Wi-Fi 802.11a/b/g/n/ac compliant).
1x 3.5″ front bay 2-port USB 3.0 hub (with screws).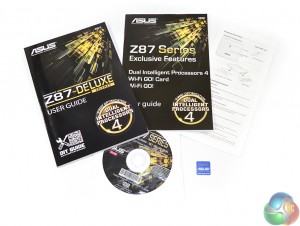 Asus includes documentation for the motherboard and some of its key features. A case badge is also provided.