Firstly, we are pleased to report that our Leetgion Hellion mouse worked to its usual standard in the Asus Z87-Deluxe/Quad motherboard's UEFI BIOS.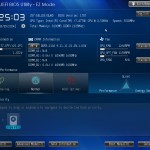 The Asus Z87-Deluxe/Quad motherboard's UEFI BIOS reveals an interface that is very similar to the company's previous iterations. The opening page displays system information, such as frequencies and memory size, as well as fan speed information and boot device priorities.
The Main page displays further system information, while the Favourites section can be used to provide quick access to user-definable functions.
Asus' AI Tweaker provides plenty of flexibility in regard to applicable voltage and frequency settings. Offset and adaptive voltages can be utilised or manual control can be set, if preferred.
The built-in overclock tuner can be used to apply a 'BCLK First' overclock which, unsurprisingly, adjusts the base clock frequency. A simple multiplier adjustment is provided by the 'Ratio First' overclock. We will outline the automated overclocking procedures and settings later in the review.
Additional power control sub-sections allow more precise tweaks to be applied to the processor, memory, and motherboard.
DRAM dividers up to 3200MHz can be applied, although frequencies that high will typically dictate a higher BCLK strap ratio, hence a lower memory multiplier. A long list of memory timings can be adjusted via its own section.
The 'Advanced' section can be used to gain detailed information regarding the installed processor and to adjust some of its features. PCI-E link speeds and controller operations can also be adjusted via the 'Advanced' sub-sections.
A separate section is given to the Thunderbolt 2 controller, allowing its operation to be adjusted to a user's decision.
As is commonplace on Asus' motherboards, the UEFI BIOS features a comprehensive fan control and monitoring system. A number of pre-defined operating modes can be applied, or manual adjustment for the target CPU temperature and related fan speed percentages can also be set.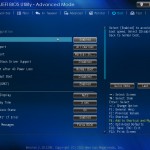 Boot settings can be adjusted.
Asus' standard set of tools is featured on the Z87-Deluxe/Quad. The EZ Flash 2 utility allows quick and simple BIOS updates to be made. When searching for a BIOS file, the tool also has the ability to scan through folders in the system's storage drive, as well as a USB flash drive.
Up to eight overclocking profiles can be saved and named, as well as exported to (or imported from) a USB flash drive. The DRAM SPD tool can prove useful when configuring memory at its rated frequency and timings.
A note can be applied to the BIOS profile – a particularly useful tool for overclockers testing out many different voltage and frequency settings. The 'last modified' log is of equal convenience for the aforementioned reasons.
I have said it many times in the past and Asus's Z87-Deluxe/Quad only serves as extra proof to the point – I strongly believe that Asus has the best UEFI BIOS currently available. The layout is practically faultless and the overall appearance is modern and easy to grasp. Most importantly, the interface is stable and free of simple mistakes or incorrect readouts.
Functionality-wise, the Asus Z87-Deluxe/Quad motherboard's UEFI BIOS settings are highly appropriate for its target audience and should suffice for novices all the way through to experienced enthusiasts. The interface is not quite as fully-fledged as a ROG design, but it features sufficient settings for the Deluxe board's target audience.