To test the Asus Z87-Deluxe/Quad, we partnered it with an Intel Core i7 4770K processor and 8GB of 2133MHz CL9 memory from the G.Skill RipjawsX (F3-2133C9Q-16GXL) kit. We will be outlining the Asus Z87-Deluxe/Quad motherboard's performance with the Core i7 4770K CPU at its stock frequency of 3.5GHz (3.9GHz due to forced turbo). Overclocked performance will be outlined later in the review.
We will be comparing the Asus Z87-Deluxe/Quad motherboard's performance to that of six other Z87 parts. All motherboards are partnered with identical hardware and software, so the results are directly comparable.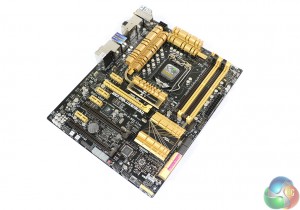 As well as the ASRock Z87 Extreme11/ac, Asus's Z87-Deluxe/Quad is one of the few motherboards that did not automatically enable multi-core turbo upon selecting the XMP BIOS profile. This could be a stability function for professional users, or it could be a feature designed to save energy in a working environment.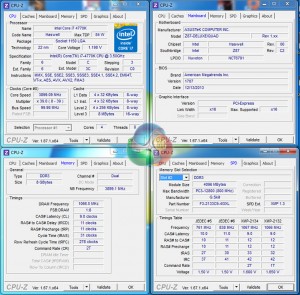 To keep results comparable to the rest of our Z87 motherboard test data we enabled all-core turbo manually. This option allows the Asus Z87-Deluxe/Quad motherboard to force the 4770K to a constant 3.9GHz. This will be displayed as the 'stock' setting (and outlined in the charts' brackets after the non-turbo stock speed is displayed).
Asus uses a sensible VCore of approximately 1.200V to achieve the forced 3.9GHz on all cores. This is a far better voltage setting than the 1.280V that ASRock uses.
LGA1150 Motherboard Test System:
Processor: Intel Core i7 4770K Retail (

3.9GHz forced turbo

).
Memory: 8GB (2x 4GB) G.Skill RipjawsX (F3-2133C9Q-16GXL) 2133MHz 9-11-11-31.
Graphics Card: Asus R9 280X Matrix Platinum 3GB.
System Drive: 500GB Samsung 840 Series SSD.
CPU Cooler: Noctua NH-D14.
Case: NZXT Phantom 630.
Power Supply: Seasonic Platinum 1000W.
Operating System: Windows 7 Professional with SP1 64-bit.
Compared Z87 Motherboards:
Asus Z87-Deluxe/Quad (BIOS 1707 – newest).
Settings:
Asus Z87-Deluxe/Quad BIOS 1707.
Catalyst 13.11 Beta9.2 VGA drivers.
Software Suite:

3DMark
3DMark 11
SiSoft Sandra 2013 SP4
Cinebench R11.5 64 bit
WinRAR
HandBrake 0.9.9
ATTO
RightMark Audio Analyzer
Totusoft LAN Speed Test
Bioshock Infinite
Metro 2033
Metro: Last Light