For SATA 6Gb/s testing we use a Kingston HyperX 3K SSD. We tested USB 3.0 performance using the same Kingston HyperX 3K SSD connected to a SATA 6Gb/s to USB 3.0 adapter powered by an ASMedia ASM1053 controller.
SATA

SATA 6Gb/s port fed by the Z87 chipset are unlikely to hamper the performance of a modern SSD.
The quartet of ports provided by a pair of ASMedia's ASM1061 chipsets are limited to transfer speeds of less than 400MB/s. These ports are better suited for low-priority devices or for use when the chipset-fed SATA ports are in operation.
USB 3.0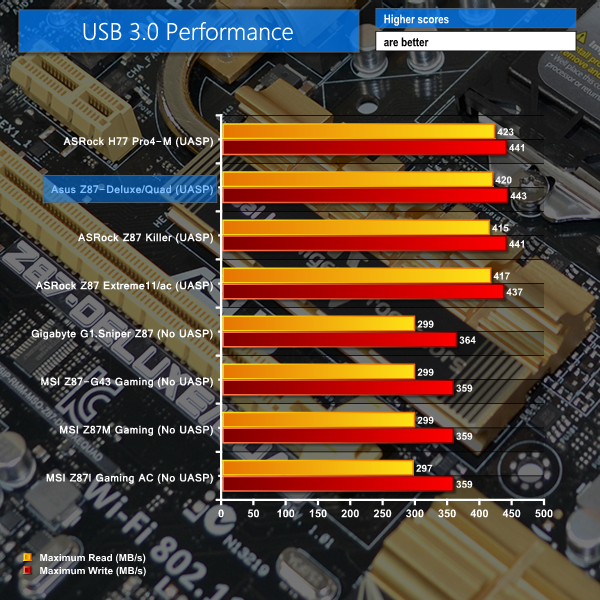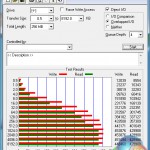 Asus deploys a UASP-activating tool in its AI Suite 3 software. With the turbo mode activated, a drive is allowed to push the limits of the USB 3.0 interface's realistic throughput ceiling.
For professional users who transfer large quantities of content, the high-speed USB 3.0 interface is critical in saving noticeable amounts of time.
Audio
We use RightMark Audio Analyzer to analyse the performance of the motherboard's onboard audio solution. A sampling mode of 24-bit, 192 kHz was tested.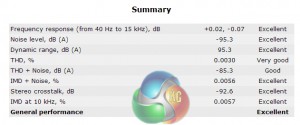 Asus relies upon a simple audio system that is based around Realtek's ALC1150 audio codec. The system does not rely upon high-grade audio capacitors or operational amplifiers which have the potential to increase production costs and the corresponding sale price.
Despite its relatively simple audio system, the Asus Z87-Deluxe/Quad shows 'Excellent' performance in RightMark's Audio Analyzer test. Realtek's impressive ALC1150 audio codec can be thanked for the strong result displayed by Asus's motherboard.
Wireless
We use Totusoft's LAN Speed Test software to measure the real-world wireless throughput when transferring a 100MB file from a wired 'server' computer (connected to the network via Gigabit Ethernet). LAN Speed Test provides real-world performance results as it creates the file, measures the time taken to transfer it, and calculates the effective network throughput.
The test motherboard was located in close proximity to our Tenda N60 router which is limited to 300Mbps Wireless-n speeds, not 802.11ac. We tested using the 5GHz frequency band and kept network resources free to ensure the transfer rates were not capped.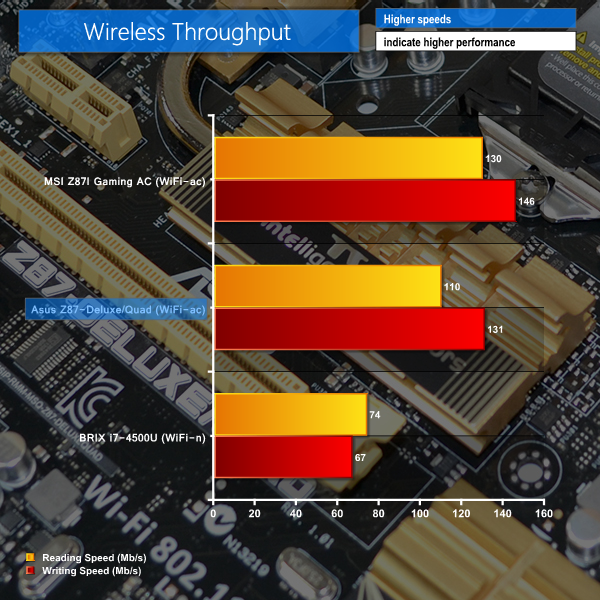 Connected via a two-stream 802.11n interface, Asus's Z87-Deluxe/Quad delivers strong throughput results. Achieving transfer rates over 110Mbps via a wireless-n interface is impressive.
We would advise caution when interpreting our wireless testing results. The Asus Z87-Deluxe/Quad motherboard features an 802.11ac WiFi adapter, but our testing limits its throughput potential by connecting to a wireless-n router. We are currently in the process of transitioning our testing to incorporate wireless throughput results via an 802.11ac connection, provided by a true 802.11ac router.