Measuring 12″ x 9.6″, Asus's Z87-Deluxe/Quad conforms to the standard ATX form factor. Asus's Thunderbolt 2-equipped board retains the black and gold colour scheme of its original Z87-Deluxe sibling.

To some, the colour scheme is loud and obnoxious. To others, the black and gold mix well and create a unique appearance. I have to admit that I fall into the latter category – I like the balance of Asus's eye-catching arrangement of colours.
A dark black PCB is used to further enhance the motherboard's aesthetic appearance.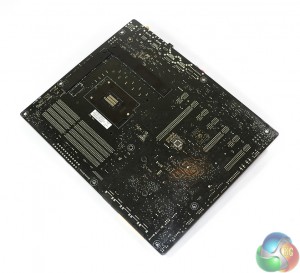 VRM heatsinks on the board's rear side provide additional support and cooling for the power delivery components.
Up to 32GB of DDR3 memory can be installed in the Z87-Deluxe/Quad motherboard's four single-latch DIMM slots. Memory frequencies up to 3200MHz are supported, although the real-world maximum frequency will also be related to the strength of a CPU's IMC.
A pair of 4-pin chassis fan headers and the outwards facing USB 3.0 header are located in close proximity to the 24-pin connection. Asus's ever-convenient MemOK button is located in the board's top-right corner.
Asus uses a high-performance, sixteen phase power delivery system to feed an LGA 1150 CPU. Called Digi+ VRM, the sixteen phase system utilises digital controllers and 5000-hour lifespan capacitors in an effort to enhance stability and longevity of the motherboard. Asus also seems to be using high-quality chokes in addition to the solid-state capacitors.
The motherboard's memory subsection is fed by a two phase digital power delivery system.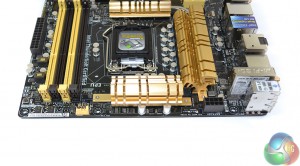 Positioned against the board's top-edge, the 8-pin CPU power connector is sat in the ideal location for ease of cable management in modern ATX cases.
A pair of CPU fan headers, both 4-pin, is located to the left of the upper VRM heatsink. Both connections are linked to the CPU's PWM fan control channel. The gold fan header looks to support a feature unique to Asus which allows it to control the speed of a 3-pin fan, as we reported here.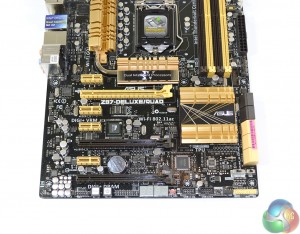 Showing intent for the target audience that Asus has produced its Z87-Deluxe/Quad motherboard for, the product utilises a full array of PCIe expansion slots. There are no legacy PCI slots in sight – a decision which many users will applaud.
The gold PCIe x16 slot operates at full bandwidth, being fed by sixteen Gen 3 PCIe lanes when used on its own. Installing an additional card in the second PCIe x16-length connector will force both lanes to operate at PCIe 3.0 x8 bandwidth. Asus also includes a third full-length PCIe slot which, when occupied, will force the motherboard to operate in x8/x4/x4 configuration, from top to bottom. Two-card SLI and up to three-card CrossFire configurations are supported.
I would typically prefer the bottom PCIe x16-length slot to operate via four PCIe 2.0 lanes routed from the chipset. This allows users to maintain SLI capability (and x8/x8 CrossFire) while still being able to use a high-bandwidth PCIe device such as Asus's ROG RAIDR. But given that a large proportion of the Z87 chipset's PCIe lanes have been allocated to the Thunderbolt 2 controller, Asus's decision to link the lower full-length slot with the CPU's PCIe lane generator is an understandable one.
Four PCIe 2.0 x1 connectors complete the Z87-Deluxe/Quad motherboard's expansion slot arrangement.
An eight-lane PCIe Gen 2 switch in the form of PLX's PEX8608 is called upon to assist with bandwidth allocation for the Z87-Deluxe/Quad's host of controllers. The PEX8608 switch essentially acts as a duplicator to provide the correct quantity of PCIe 2.0 connections to all of the interfaces – the number of PCIe lanes required is greater than the number that Intel's Z87 FlexIO configuration can provide.
Along the motherboard's bottom edge we find the typical array of headers. As usual, front panel headers are located on the right side of the motherboard edge, with the audio connection residing on the left. Asus includes a pair of Q-code LED displays for diagnostic purposes.
Onboard power and reset buttons are located on the motherboard's bottom edge. I do not have any complaints regarding their positioning – it is unlikely that users will operate a dual-slot graphics card in the lowest PCIe slot. A red clear CMOS button and the DirectKey switch are also located on the motherboard's bottom edge.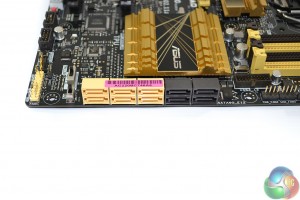 Ten SATA 6Gbps ports are found on the Z87-Deluxe/Quad motherboard. The six gold-coloured ports operate directly from the Z87 PCH, while the four black connectors are provided by two ASMedia ASM1061 chipsets.
All of the ports are aligned in the right-angled orientation to minimise clearance issues with multiple graphics cards.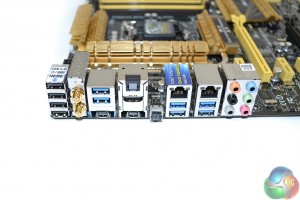 Intel's DSL5520 Falcon Ridge controller provides both of the 20Gbps Thunderbolt 2 connections. Up to twelve storage devices can be daisy-chained to the pair of Thunderbolt 2 ports. As Thunderbolt also carries a DisplayPort signal, high-resolution monitors or video capture devices can also be linked to the daisy-chain, in addition to a large storage array.
Noticeably, Asus does not provide a method of linking the video signal from a discrete GPU to its motherboard-based Thunderbolt 2 ports. This suggests that users will be better served to link storage devices to the Thunderbolt 2 ports, while an external video signal is sent via conventional DisplayPort or DVI means, if a discrete graphics card is used.
A pair of Gigabit Ethernet ports is provided by a combination of Intel's I217V chipset, as well as the RTL8111G from Realtek. Asus should make it easier for users to understand which Ethernet connection is fed by each controller. Antenna connections for the two-stream, dual-band 802.11ac WiFi are found amongst the rear IO ports.
An ASMedia ASM1074 four-port USB 3.0 hub helps to provide a total of six SuperSpeed connections for the rear IO panel. Potential bandwidth limitations could occur if users attempt to saturate the duplicated USB 3.0 ports, although utilising the Thunderbolt 2 connections may be a worthwhile upgrade if a substantial quantity of data is being transferred to external devices.
Realtek's ALC1150 audio codec is used in a simple system which does not rely upon high-grade, cost-increasing audio capacitors or operational amplifiers.
Motherboard rear ports:

2 x Thunderbolt 2 Ports

1 x HDMI

2 x LAN (RJ45) ports


6 x USB 3.0 (blue)

4 x USB 2.0 

1 x Optical S/PDIF out

6 x Audio jacks

1 x USB BIOS Flashback Button(s)

1 x ASUS Wi-Fi GO! module (Wi-Fi 802.11 a/b/g/n/ac and Bluetooth v4.0/3.0+HS)
Asus uses stylish black and gold heatsinks to cool the sixteen phase VRM and Z87 chipset. The heatsinks are short enough to avoid major interference headaches.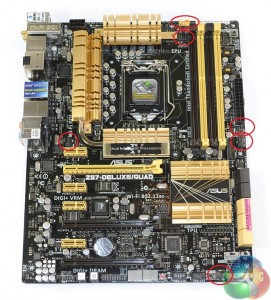 Six 4-pin fan headers are spread around the motherboard and found in their ideal locations. Asus's excellent positioning allows users to connect side panel, rear, and front fans without having to trail wires across the motherboard and ruin their cable management efforts.
All six of the fan headers can be speed-controlled via the UEFI BIOS or Asus's software.