Automatic CPU Overclocking: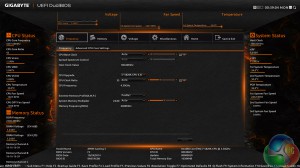 Despite its micro ATX form factor, Gigabyte is not holding back on the overclocking front.
Gigabyte's automatic CPU speed-boosting profile had no problem taking our 5820K to 4.3GHz. We were happy to see that only the CPU speed level was adjusted, and the memory configuration was maintained in its XMP mode.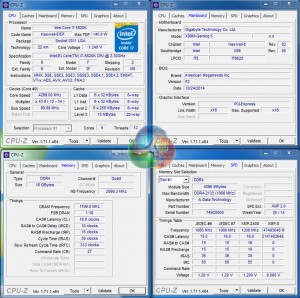 The 4.3GHz profile delivered around 1.25V to the CPU under heavy load. That's a sensible level that should be controllable with a solid mid-range CPU cooler, even in an mATX environment.
Manual CPU Overclocking:
To test the Gigabyte X99M-Gaming 5 motherboard's CPU overclocking potential, we first increased the CPU VCore to 1.275V, Cache (RING) voltage to 1.25V, and CPU Input (VRIN) Voltage to 1.90V. We also enabled applied 'Extreme' load-line calibration (LLC) to ensure that a continuous voltage level was provided.
We maintained the DRAM frequency at 2400MHz to take its stability out of the overclocking equation. Cache frequency was maintained at 3.0GHz.
We had no problem taking our 5820K chip to its 4.5GHz limit. Gigabyte's motherboard was happy to boot without any issues after we applied the voltage adjustments and 45x CPU ratio.
While 4.6GHz was not quite stable on the X99M-Gaming 5, it did not BSOD instantly upon running Prime95. Instead, we were given an extended period of operation before the relevant BSOD came. That does show that there is solid overclocking potential in the X99M-Gaming 5 if your chip meets the frequency demands.
CPU-Z registered a CPU VCore of 1.273V, which is very close to the 1.275V level that we asked for. Gigabyte's LLC settings are doing a good job.
The validation can be viewed here.
Memory Frequency Performance:
Support for high-speed memory kits has been a particularly troubling topic since the X99 launch. We test the motherboard's ability to load the 3000MHz XMP configuration on our G.Skill Ripjaws4 DDR4 memory.
Gigabyte has finally created an X99 BIOS implementation that is capable of operating G.Skill's 3GHz Ripjaws4 kit at its rated frequency. That said, the motherboard did apply an extra 25mV (1.375V rather than 1.350V) to the DRAM voltage when the 3GHz XMP mode was applied.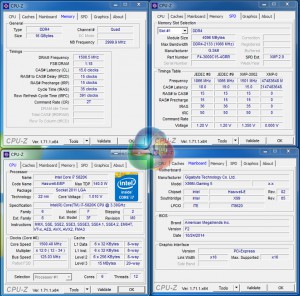 Benchmarks were completely stable when using the 3GHz memory. It is good to see that Gigabyte has been working hard in order to fix the initial compatibility issues it had with high-speed memory.
The 3GHz XMP validation can be viewed here.