Gigabyte supplies a wide range of software that is compatible with its entire series of X99 motherboards. The tools are largely identical to the Z97 offerings, with the exception of platform specific functions.
Many of the screenshots below were taken using Gigabyte's X99-UD4 motherboard (which uses the same software as the X99M-Gaming 5).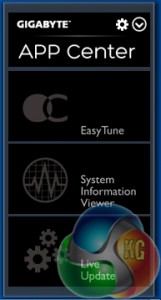 App Center is where the installed tools can be accessed. The screen pops up in the bottom-right of one's screen when actuated via the taskbar.
Gigabyte's EasyTune software allows users to view and adjust frequency, voltage, and other overclocking-related settings in an OS environment. Pre-set frequency profiles can also be selected, as can an auto tuning overclocking tool.
System information and fan speed settings can be tweaked via their own section in Gigabyte's software suite.
We found the accuracy of System Information Viewer to be good and largely consistent with CPU-Z.

A larger list of system information readings is displayed on the Hardware Monitor break-out window.
Gigabyte's software for X99 motherboard is simple and functional. The styling is good and there is flexibility with the applications that users can choose to install (such as RAID toggle and time control apps).