In the X99M-Gaming 5, Gigabyte has designed a motherboard that will tick many of the boxes for micro ATX enthusiasts. There's support for two full-bandwidth graphics cards, and even flexibility with their positioning in a 5-slot chassis. And then there's the array of storage options and enhanced audio system. Importantly, Gigabyte provides a strong voltage delivery system that allows the X99M-Gaming 5 to remain competitive when overclocking power-hungry Haswell-E chips.
Performance of the X99M-Gaming 5 is competitive with full-sized ATX boards. With the exception of gaming results, where a slight incompatibility with Gigabyte boards and our test GPU forces a slower PCIe mode, the X99M-Gaming 5 had no problem actively competing throughout the test suite.

The board's overall appearance is another positive, especially to mATX users looking to create a boutique system. Gigabyte does not compromise when it comes to cooling of the hot VRM components, which is a smart move. Quality of the audio system is very strong, and the distribution of PCIe lanes to the expansion slots is sensible.
There are some disappointing aspects to the X99M-Gaming 5, however. The biggest of these disappointments is the slow 10Gbps M.2 connector. That's barely fast enough for today's M.2 SSDs, not to mention the ones getting ready to launch in the coming weeks and months. And with absolutely no negatives to using a four-lane, PCIe 3.0-fed 32Gbps M.2 connector, Gigabyte has hung a needless future-proofing question mark over the X99M-Gaming 5.
The second issue is one that truly frustrates me because it is so easy to detect and fix at the design stage. Not only does Gigabyte still deliver the problem, the company's designers managed to do it twice. Placing both USB 3.0 headers in the prime space that will be occupied by a second graphics card is a terrible design move on a board intended for use with SLI and CrossFire. Putting at least one of the headers away from interference, near the 24-pin connector, is about as much of a 'no-brainer' as it comes.
With those two points out of the way, the rest of Gigabyte's design and layout decisions have been smart ones that cater for enthusiasts desiring an mATX system with minimum performance or functionality compromise.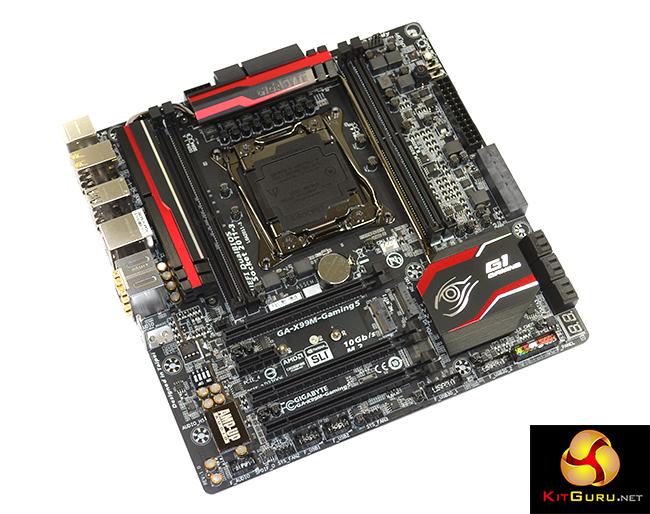 Cashing in on a reduced PCB purchase price, Gigabyte's X99M-Gaming 5 is one of the lowest-cost X99 motherboards on the market. OverclockersUK has the board listed at £169.99. That's a good price for an attractive, mATX motherboard with strong overclocking performance and a positive array of gaming features.
If you don't plan on using a high-speed M.2 SSD in the near future, and are happy to lose front panel USB 3.0 connectivity with two graphics cards installed, Gigabyte's X99M-Gaming 5 is an excellent motherboard. The most disappointing aspect of this board is that those two noteworthy negatives have to be mentioned when they were so easy to eliminate at the design stage.
That said, Gigabyte's X99M-Gaming 5 is still a positive mATX X99 motherboard that has plenty of good aspects, and one that many gamers will be pleased to own.
Discuss on our Facebook page, over HERE.
Pros:
Good overclocking capacity and 3000MHz DDR4 support.
Smart PCIe slot spacing and general layout (except USB 3.0 headers).
Plenty of storage and connectivity options.
Network control with Killer NIC and software.
Strong audio solution with upgradeable operational amplifier.
M.2 module for Wi-Fi can be convenient.
Stable BIOS implementation from launch (always a positive sign).
Competitively priced.
Cons:
Only a 10Gbps M.2 connector when a faster version would have been so easy to provide.
Both internal USB 3.0 connectors will be blocked by a large secondary graphics card.
KitGuru says: A positive mATX solution which proves that little compromise has to be made when downsizing from ATX, even on the X99 platform.