We will be outlining the Gigabyte X99M-Gaming 5 motherboard's performance with the Core i7 5820K CPU at its stock frequency (3.6GHz due to forced turbo). Overclocked performance will be outlined later in the review.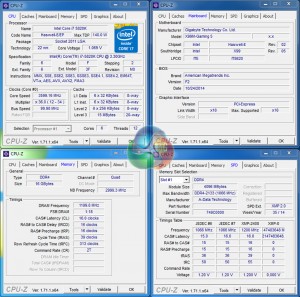 By default, the Gigabyte X99M-Gaming 5 motherboard applies multi-core turbo (MCT) and forces the 5820K to a constant 3.6GHz when XMP is enabled. This will be displayed as the 'stock' setting.
Gigabyte feeds the 5820K with 1.069V under load and at MCT speeds. That's a sensible voltage level that outputs low temperature values and can be cooled with relative ease.
X99 Motherboard Test System:
Compared X99 Motherboards:
Software:
Gigabyte X99M-Gaming 5 BIOS F2 (release and latest).
Catalyst 14.9 VGA drivers.
Tests:

3DMark 1.3.708 – Fire Strike (System)
SiSoft Sandra 2014 SP2 – Processor arithmetic, memory bandwidth (System)
Cinebench R15 – All-core CPU benchmark (CPU)
WinRAR 5.10 – Built-in benchmark (CPU)
HandBrake 0.9.9 – Convert 4.36GB 720P MKV to MP4 (CPU)
ATTO – SATA 6Gbps, USB 3.0, M.2 transfer rates (Motherboard)
RightMark Audio Analyzer – General audio performance test (Motherboard)
Bioshock Infinite – 1920 x 1080, ultra quality (Gaming)
Metro: Last Light – 1920 x 1080, high quality (Gaming)
Tomb Raider – 1920 x 1080, ultimate quality (Gaming)