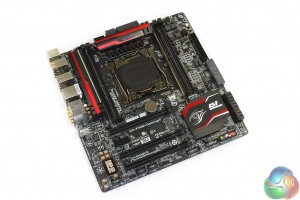 With the X99M-Gaming 5 measuring in at 24.4 x 24.4 cm (9.6 x 9.6 inches), Gigabyte uses the full set of dimensions allocated to a micro ATX motherboard. In doing so, the company manages to return four DIMM slots, three full-length PCIe connectors, and a vast array of storage interfaces.

It is good to see, from first glance, that many of the inherent features that make Intel's X99 platform such an alluring proposition are maintained on this cut-size component. The red and black colour scheme is easy on the eye, too.
Mastering the layout of a micro ATX motherboard is almost impossible. There will be users who want multiple graphics, with spacing. Others may yearn for a motherboard capable of powering a single-GPU, without interfering with wide CPU coolers. And then there's the point of sideways-facing SATA ports extending the required chassis dimensions.
Those previous points are just a few of the design challenges that motherboard vendors are forced to tackle in one piece of hardware.
Gigabyte's X99M-Gaming 5 looks to be tailored to dual-GPU users (gamers) who want to take advantage of the LGA 2011-3 CPUs' computational capabilities and PCIe lanes.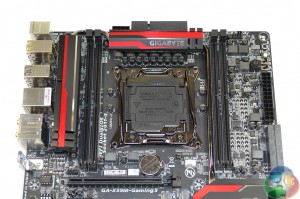 Needless to say, space around the large LGA 2011-3 CPU socket is tight. With a pair of the DDR4 DIMM slots residing closely to either side of the CPU socket, tall memory heatsinks and a large air cooler will not make a smart pairing.
The four single-latch DIMM slots support up to 32GB of DDR4 memory. Speed potential will depend on the board's BIOS implementation and a CPU's integrated memory controller (IMC) strength, however we did manage to hit 3GHz with G.Skill Ripjaws4 memory.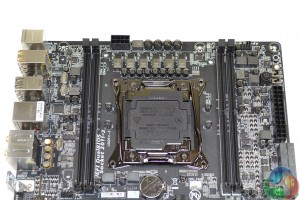 The DRAM and system voltage hardware sees the use of International Rectifiers' efficient IR3553M packages, as well as a pair of the same company's IR3570A controllers.
A six-phase power delivery system is used to feed an LGA 2011-3 CPU. This is lower than the eight-phase minimum we have seen from many other X99 boards, however there is the argument of quality over quantity.
And on the topic of quality, those MOSFETs are International Rectifiers' IR3556M packages which combine a driver, Schottky diode, and two different types of MOSFET to provide an output current capability of up to 50A.
The board's chokes live up to a similar standard, with six server-level Cooper Bussmann FP1007-R3-R15-R components helping form the primary CPU voltage delivery system. According to manufacturer specifications, the inductors are capable of delivering 61 Amps without core loss and with a 40°C temperature rise. They are rated for operation with temperatures up to 125°C, which speaks positively for their durability.
Management of the voltage regulator is conducted by International Rectifiers' IR3580 digital controller. The digital control logic should give the controller an accuracy advantage over analogue chipsets, although that may come at the price of response speed.
Power, reset, and clear CMOS buttons are sat in the board's top-right corner, alongside two BIOS switches and the 24-pin power connector. I always respect the inclusion of onboard buttons as they are particularly convenient in times of troubleshooting.
A debug LED is found in the board's bottom-right corner.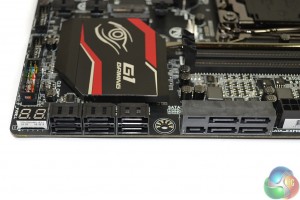 Layout of the ten SATA 6Gbps ports on the X99M-Gaming 5 is a little confusing. It is important to understand which ports belong to the X99 chipset's first six lanes, as those are the only ones that support RAID through Intel RST software (until possible future updates). Gigabyte makes this confusing.
The two middle ports (the ones to the right side of the left bank of six) are SATA ports 0 and 1. SATA ports 2-5 are embedded as part of the 10Gbps SATA-Express connector. The four 6Gbps ports furthest to the left support IDE and AHCI modes through native Windows drivers only, and should therefore be reserved for slower (perhaps backup) storage drives.
SATA ports 4 and 5 share bandwidth with the SATA-Express and M.2 connectors. Only one of those three sets of connections can be used at any point in time.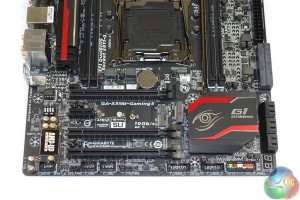 The first and second full-length PCIe slots run at sixteen-lane, gen 3 bandwidth. The lowest PCIe slot is hard-wired to a maximum link speed of eight lanes. Installing a 28-lane chip (the 5820K) reduces bandwidth allocations to provide an x16/x8/x4 configuration.
I think Gigabyte's layout decision is wise. Many users may be unhappy to see that their dual-slot cards will be forced to run back-to-back in CrossFire/SLI. But that is a compromise that has to be made when most mATX cases only have four expansion slots. Sticking a graphics card in the lowermost PCIe slot will also block access to front panel connectors.
That lonely PCIe 2.0 x1 slot is more-or-less provided for completeness only. Personally, I'd have saved the cost of the plastic and ditched it completely.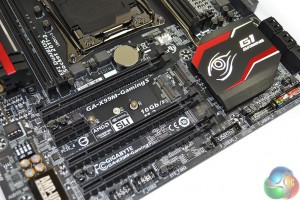 This is where I think Gigabyte has made its biggest design mistake with the X99M-Gaming 5. That M.2 connector, designed for high-speed SSDs, is limited to a measly 10Gbps connection speed from its two chipset-fed PCIe 2.0 lanes. Taking off the PCIe Gen 2 overheads, that translates into an SSD speed cap of just under 1GBps. Not particularly fast for users of the enthusiast, HEDT platform.
While that's still a sizeable improvement over current SATA SSDs, Samsung's 1GBps-capable XP941 has been out for months. And CES 2015 has proven that even faster M.2 drives from vendors such as Samsung, Kingston, and Plextor, are just around the corner. 2015 will see the shipping of M.2 drives which run into a considerable bottleneck with Gigabyte's 10Gbps M.2 implementation. That's not a smart design move on a long-term platform where there is no shortage of PCIe connectivity.
There are two far better design choices that could have been implemented. Option A would be to provide the M.2 connector with four PCIe 2.0 lanes from the X99 chipset, resulting in a 20Gbps connection speed. There's an abundance of PCIe 2.0 connectivity remaining in Gigabyte's implementation of the X99 chipset, and the company has experience of doing the four-lane process with its X99-SOC Force motherboard.
Option B would be to do what all other vendors are doing – provide the M.2 slot with four PCIe 3.0 lanes fed directly from the CPU to give it a bandwidth link of 32Gbps. And in a micro ATX motherboard, where a maximum of two graphics cards will be used, that approach has zero negatives (other than a small fee dictated by an additional chipset). With the 40- and 28-lane Haswell-E chips, at least four PCIe 3.0 lanes are always spare when two GPUs are used.
On a positive note, Gigabyte provides an additional M.2 connector (using the Socket 1 interface) that can be used to house a Wi-Fi card. Gigabyte provides one of the few methods of using an internal wireless adapter in addition to two graphics cards, inside a micro ATX chassis. This could be an important buying point for users who value the potential performance advantages of an internal wireless adapter.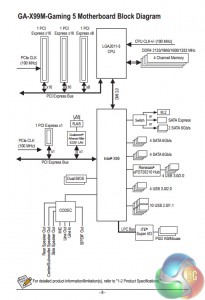 Gigabyte provides a block diagram of its motherboard in the manual. This is a very smart move, especially on the enthusiast X99 platform, as users can decipher the board's operating characteristics to provide their system with the most effective level of performance.
The usual array of front panel headers is found along the board's bottom edge. Gigabyte also chooses this area as the location for both USB 3.0 headers. That's not a smart move – the ports will be blocked by a large graphics card installed in either of the bottom two PCIe slots.
It would have made perfect sense to position one of the USB 3.0 headers up towards the 24-pin connector and keep the other where it is. This gives users redundancy for their USB 3.0 links – if the bottom-edge port is blocked the other one can be used instead.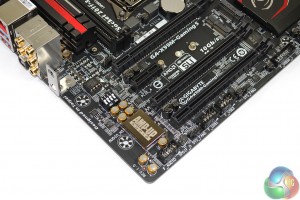 Audio is one of the areas where Gigabyte invests a sizeable portion of the X99M-Gaming 5 motherboard's budget. Excellent graphics aren't much fun if there isn't high-quality audio accompanying them.
Based around the popular Realtek ALC1150 codec, Gigabyte adds a Burr-Brown OPA2134PA operational amplifier into the audio loop. And if that doesn't live up to your standards, Gigabyte's socketed installation method allows the amp to be upgraded.
Four dip-switches control the amplifier's gain level. Nichicon 'N428' capacitors assist with delivery of the audio signal, although the total number is reduced thanks to a replacement Texas Instruments DRV632 DirectPath line driver.
The audio signal is sent along an isolated PCB route that glows red when the motherboard is powered on. Right and left signals are segregated to minimise interference.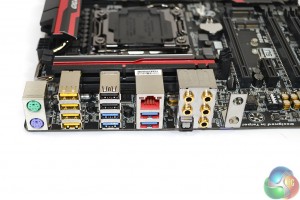 The four USB 3.0 ports are provided via a Renesas uPD720210 4-port hub. A further six USB 2.0 ports are present, the yellow four of which are 'DAC-UP' ports that are fed a clean voltage signal for improved audio quality delivery. Two PS/2 ports may be welcomed by some users.
Ethernet is provided by way of Killer's E2201 chipset. While there are many enthusiasts who prefer Intel's lower-cost I218-V alternative, the network-controlling software for Killer's NICs is what continues to make them popular on gaming components.
Gold-plated audio jacks are used to minimise signal interference. A pre-installed mounting bracket is ready to be used with antennae from a wireless adapter.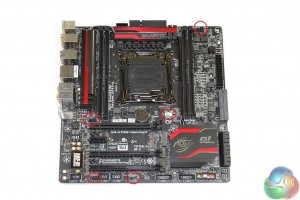 Distribution of Gigabyte's five 4-pin fan headers is very good. The two CPU headers are well within reach of the CPU socket, and chassis fans are covered by the three remaining headers which are found in smart locations.
Being picky, moving one of the bottom-edge headers further to the board's right side would be more convenient for serving a front chassis fan. ITE IT8792E and 8620E chipsets provide fan and Super I/O control, as well as system monitoring.